Prep your house for winter by adding a few cozy touches all around! Add plushy blankets to your bedroom and a roaring fireplace in your living and you're good to go. Simple, right? Almost! Read on to find out how you can add soft touches here and there and bring out the coziness in your home.
Make a Moodboard
The first thing you should do is curate and collect inspiration from around you. Browse through inspiration hubs like Pinterest, We Heart It and We Love Fire! You're sure to find a collection of looks that you'll love. Add individual pictures to your board and pretty soon you'll have a complete room all good to go. Once you have your mood board sorted, you'll be able to pick out similar pieces to bring the look together.
Light it Up
Image Source: Flickr
Fairy lights are an excellent way to add some cozy appeal to your room. String up warm fairy lights around key pieces of furniture or add them along with the bed frame for a magical night in. You could also be creative and add a bunch of lights to a major jar, making it look like you've trapped fireflies in your house.
If you prefer more of a modern look you should consider using smart bulbs like the Phillips Hue and LIFX (you can find a good Hue vs. LIFX comparison here). These lights connect to your smartphone, allowing you full control over when they are illuminated and a virtually infinite range of color options. It's an easy way to add color to your space, while still being able to change as your needs and preferences evolve over time.
We Love Lamps
Speaking of lights, you can add maximum coziness to the scene by adding a few lamps here and there. Fat bedside lamps add warmth and glow to any side table that you place it on. Add a couple of books, a bowl of potpourri and a cup of steaming cocoa and you have the perfect cozy winter scene. Pro-tip: always opt for warm lighting instead of harsh, white light.
Ditch the Cotton
Image Source: Maxpixel
For ultimate winter coziness, opt for linen sheets instead of cotton. Thick and comfy linen sheets are both breathable and warm. Plus, they last a lot longer than cotton sheets and you'll feel like you're snuggling up in an expensive hotel when you're ensconced in linen sheets. Even their rugged texture is enough to keep you warm and cozy.
Create a Photo Wall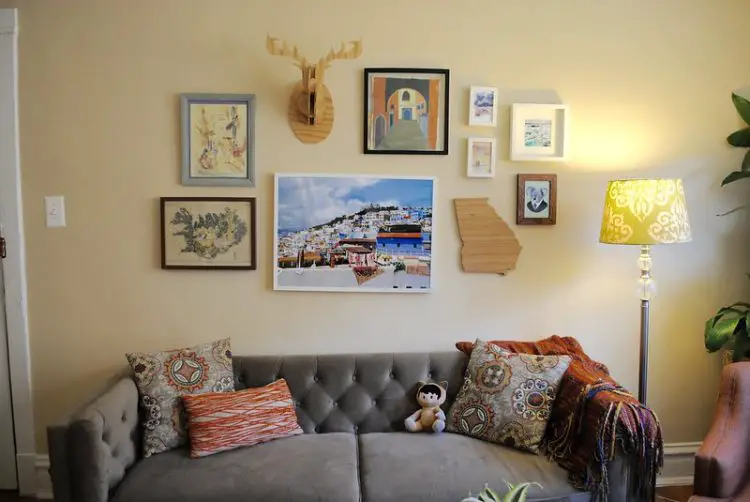 Image Source: Flickr
If you want to create a cozy, friendly look, you should curate a tasteful photo wall on a warm accent wall. Make sure your accent wall is in a jewel tone. Something like olive green or deep orange works well. Arrange your frames in an artistic way on this wall. Add pictures of your family and friends and you'll find it adds a personal, cozy touch to your room.
White and Bright
There's just something so cozy about white sheets and throw pillows. White not only looks classy and sleek, but it also adds that extra element of coziness to your room. You can try adding white soft throw pillows to your couch in the living room or put giant white pillows on your bed in the bedroom. You can even spruce up your bed with a downy white comforter to snuggle up in as you enjoy winter nights.
Be a Rugrat
Image Source: Pixabay
Rugs and rugs and more rugs! That should be your only mantra for the wintertime. Add a large number of rugs around your room to give it that warm and layered look. You'll find that walking around in the room is fun and the whole vibe will make you feel comfortable and cozy.