Have you ever caught sight of a mark on your wall and just shrugged and thought it could be fixed with a simple lick of paint without really considering what the source of the mark is? Of course, it's likely just to be a light scuff mark where someone has knocked into the wall, but it could be something that requires a bit more attention than simply being hidden behind a layer of paint.
Cost to Pain a House in 2020
If you've been thinking about giving your walls a touch up, before you reach for the paintbrush and pot of paint, take a closer look at your walls and keep an eye out for the following tell-tale signs that may require a repair.
Crayon Marks
A not uncommon mark to see in the home of growing children, waxy marks of pencil or crayon may seem like an obvious choice to paint over however, the consistency of the mark will make it difficult for any paint to properly adhere. This could cause it to easily wipe off in the future – revealing your hidden crayon/pencil marks and leave your new paint job looking textured and uneven. Make sure to fully remove these marks on walls before starting any paint job and enjoy a smoother, good-looking job well done.
Dark/Discoloured Patches
If you've got discoloured or dark patches on your walls, it can be tempting to get them covered up as soon as possible however, this can be the sign of a sinister problem lurking beneath the paintwork – damp. Damp occurs in your property when moisture becomes trapped in walls, floors, ceilings or anywhere it shouldn't be. If you try to cover up the signs of damp without repairing the issue, it can rapidly become an expensive repair job that requires structural work – rather than implementing damp-proofing, clearing away the patches and then giving your property a refreshing paint job.
Damp can occur anywhere in your home but it's more likely to occur in rooms with poor ventilation, a source of moisture or rooms that are below ground-level such as basements. Basements and cellars without effective damp-proofing can be uncomfortable locations all year round but you can make more efficient use of the space with a bit of extra work.
Consider investing in basement tanking for your property, this will seal your basement and make it more enjoyable to use as a lifestyle room or additional bedroom. Great for making extra space, you can employ a company for basement tanking without a supporting wall or choose to split your basement space into separate rooms once it's completed.
Scratches, Gouges and Cracks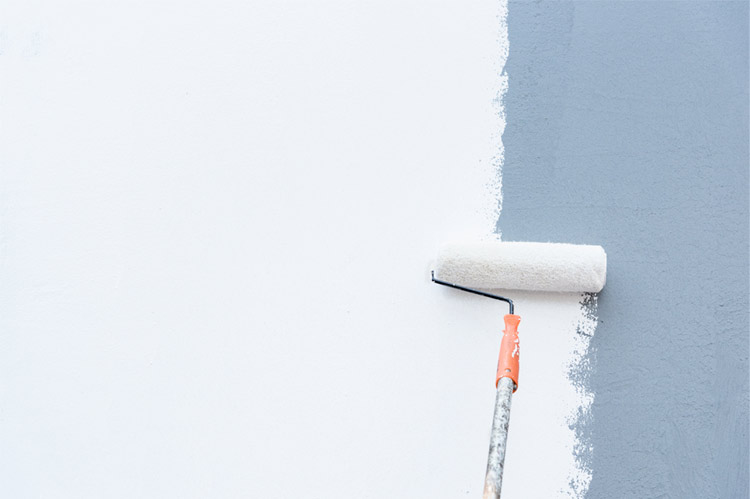 Scrapes and gouges can occur on your walls at any time, you might be moving furniture and accidentally caught a corner on the wall or have dropped something that knocked off the wall creating a deep scratch. While scratches themselves can be filled and painted over, make sure that these gouges and scratches haven't occurred too easily, and that the strength of your wall isn't weakened due to structural changes or problems with penetrative damp.
Similar with cracks, although these can be easily filled and painted over, they will come back. Instead, using a utility knife make a v-shaped cut along the length of the crack, fill the crack with your filling compound of choice, allow this to dry and sand it down to be level with the wall. Once dry, place some mesh tape over where the crack was and then cover this with more filling compound, creating a nice smooth 'feathered finish' approximately 2 inches on each side of the crack. Once this has dried, you'll need to apply a couple more coats of filling compound until you have at least three coats that are feathered out to approximately 8-10 inches either side of the crack.
Your property is one of your greatest assets and likely to be one of the most expensive purchases you will ever make, so it makes sense to take care of it and keep it looking good. The important thing to remember is doing jobs right – if you cut corners, this could soon come back to bite you with expensive repairs or worse, something that makes your home unlivable!