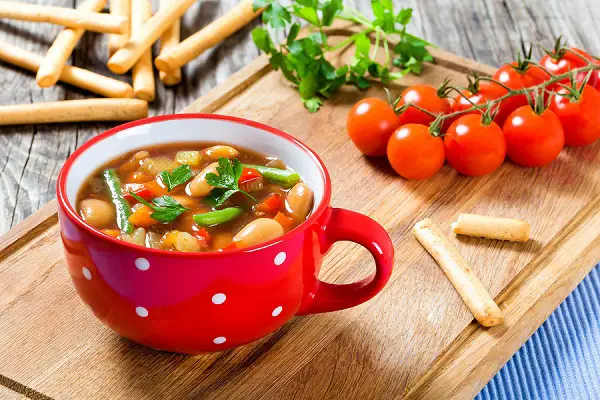 Referring to big soup in Italian, minestrone is hearty and tasty. It will keep you warm in the winter and energetic in the summer. And there's no doubt. This classic soup tastes better than what you'd get in the canned version. It's also a versatile dish that you can serve as a full meal with bread or pasta. The choice is yours.
While minestrone cooking varies from cook to cook, the basics are kept. It includes celery, onions, carrots, tomatoes and potatoes, and it is served with pasta, rice, peas or beans.
Minestrone soups may also vary in flavor, which is dependent on the season. It is cooked using fresh vegetables (or canned/frozen vegetables).
In this recipe, remember to add the vegetables in stages to ensure that they're fully cooked at the same time. This version yields four servings and takes 30 minutes to prepare.
Ingredients
One-fourth cup of olive oil
Four cloves of crushed garlic
1 and ½ cups of minced onions
1 lb of frozen mixed vegetables (e.g. zucchini, cauliflower, broccoli and green beans)
4 cups of prewashed and sliced kale
One can of drained cannellini beans
1 cup of elbow macaroni
14.5 ounces of diced tomatoes in juice
2 cups water
42 fl oz of broth
Salt and pepper to taste
How to Prepare
Heat olive oil in a heavy glass top stove cookware or pot over moderate to high heat.
When the oil is heated, add in your onion and garlic while stirring occasionally. Keep stirring until they are golden.
Sauté in the kale and stir it for a minute.
Add in your frozen vegetables, pasta, chicken broth, water and tomatoes (juice included).
Add salt and pepper to taste.
Simmer it uncovered, and then stir it occasionally for about 10 minutes or until the pasta is cooked and the vegetables are tender.
For the beans, transfer half of it to a shallow bowl and mash it with a potato masher.
Add the whole and mashed beans in the minestrone.
Simmer and stir until it is thickened, roughly for about 6 minutes.
Season it with salt and pepper to taste.
Preparation time
Minestrone's cooking time varies based on the vegetables you use in your recipe. For this one, it may take only 30 minutes to prepare, but in most cases, the average cooking time is between 25 and 40 minutes.
Garnishing
Before serving, garnish each bowl with a teaspoon of olive oil.
Serving
I usually serve mine with a slice of crusty bread for a full dinner.
Aside from minestrone, you may also prepare a bowl of mixed greens salad to eat later for a full meal and sliced apples for the dessert.
Let the minestrone soup cool and reheat it before serving for a better flavor.
Vegetables per season
Winter
Turnip greens
Turnips
Yellow potatoes
Cabbage
Spring
Shelled peas
Spinach
Asparagus
Fennel
Summer
Leeks
Spinach
Tomatoes
Zucchini
Fall
Kale
Cranberry beans
Tomatoes
Butternut squash
I like this recipe because it's easy to prepare, it is nutritious, and it provides warmth during cold evenings. A cup of it contains roughly five grams of fiber, 105 grams of calcium and 7 grams of protein (*may be higher or lower based on the vegetables you use).
So, what are you waiting for? If you're looking for a warm, hearty soup that takes only 30 minutes to cook, then you definitely have to try this minestrone today!
Save
Save