Teaching your kids how to clean and stay organized is more than just about them helping you out. If they can do these tasks, you can be sure that they'll be developing some essential skills that will come in handy throughout their childhood and well into adulthood. Your child may not need to know how to clean the oven just yet, but there is plenty of other age-appropriate cleaning and organizing chores you can teach them.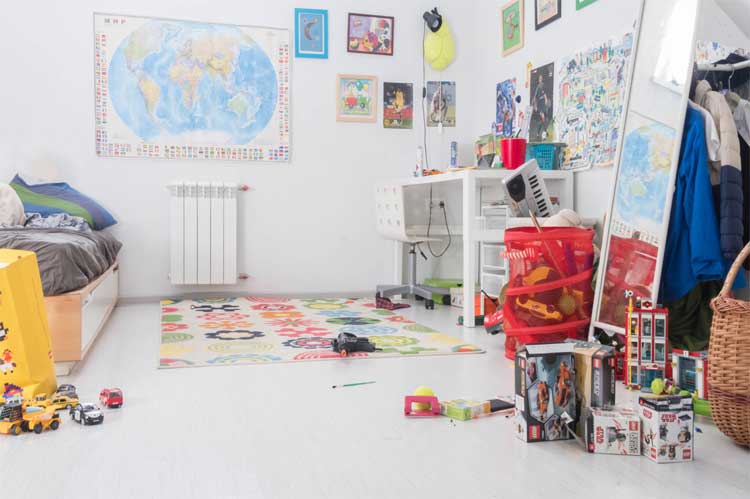 4 and Below- Sorting and Decluttering
With your guidance, kids as young as 2 years may be able to help with sorting and decluttering items around the house. They can sort out everything from laundry, to their books and toys.
Get some bins and label them with pictures of the category of items you want sorted into the bins. Help the kids get started and then leave them to it. Even your 2 year old will know to put their story book in the bin labelled books.
On decluttering, it's never too early to teach the kids the important lessons around giving. Have them put away the items they don't ever use anymore in a separate box, which you can then drop off for donations together.
Age 5-6-Making the Bed, Doing the Dishes
Teach your kids early enough why they should always keep their rooms clean and tidy, starting with how to make their own bed. Luckily, making the bed is quite easy, and your child should have no trouble doing this on their own.
Most kids around the ages of 5-6 love water. You can be certain your child will gladly welcome the idea of them helping you out with the dishes. For starters, have them do their own dishes, just to get a hang of what cleaning dishes feels like. These are not breakable and you don't have to worry about little accidents. You can then move to having the kids help out with the rest of the dishes. Instead of leaving them to it, why not make it a great way to spend some time together. You can wash and have your child dry, or the other way around.
Age 7-9- Sweeping, vacuuming
Get your child a kid-sized broom to make sweeping easier on them. This cleaning chore isn't difficult to do either, with the most important thing being that your child pays attention to what they are doing. You can help with those hard-to-reach places with the regular-size broom. It would also be a great help if you could move furniture and other items around so the kids have plenty of room to work with when sweeping.
Vacuuming doesn't require as much effort as sweeping, and your kids will love the idea of being able to work an appliance. A practice run is of course, very important, so your children don't bump the vacuum into walls.
Accidentally sucking up their favorite toy will definitely motivate your kids to pick up their toys off the ground, and keep them organized elsewhere.
10 Years and Above- Cleaning the Bathroom, Car Washing
From the sink, and tub, to the bathroom mirrors and walls, and of course, the toilet bowl, your pre-teen can definitely handle cleaning the bathroom. Just ensure that they have the right tools and cleaning products.
Instead of taking your car to the car wash and paying for it, why not have your pre-teen do the washing and you can add some money to their allowance. Both the exterior and interior shouldn't be too hard to clean if they have your guidance.
Safe and Fun Cleaning
For their safety, carefully look at the labels on every cleaning product before allowing the kids to use it. Additionally.
there are plenty of natural home cleaning options worth exploring. You also want to keep things fun so the cleaning feels less like a tiresome chore on the kids. Play some music, and even have some fun breaks with dancing and sharing some jokes.