A good chicken supreme sauce (aka Veloute Sauce) with chicken and white rice is one of my favorite dishes… especially when the weather gets cooler and I want a nice home cooked meal.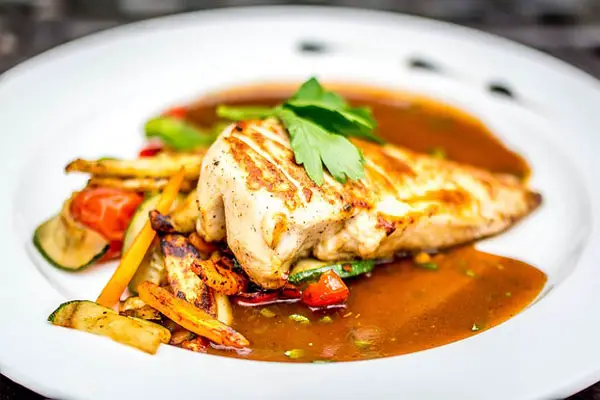 Image Source: Maxpixel
Chicken Supreme Sauce Recipe (Veloute Sauce)
When it comes to making a Chicken Supreme Sauce (Veloute Sauce) the key is to slow cook the sauce to help blend those wonderful flavors and slow cooking will also help thicken the sauce just perfectly.
Our supreme Sauce has become very popular with the entire family, even the kiddos eat it up and can't seem to get enough of it. Plus, this is a recipe that you can add other ingredients to so that you flavor it to your liking.
So here is how we make our sauce:
6 c. Chicken Broth
4 tbsp. butter
1/4 c. flour
1 c. heavy cream
1 tbsp. butter
salt & pepper to taste (optional)
In a saucepan, heat the broth to a simmer. Once it begins to simmer, lower to keep it warm.
In a separate pan melt the butter over medium heat until it's frothy. Be sure not to let the butter turn brown!
With a wooden spoon stir the flour into the butter a little at a time. You may have to stir quickly and you want it to turn into a pale yellow paste (or roux). Continue to heat until it is a slight blonde color.
Slowly add in the chicken broth with a whisk stirring to make sure there are no lumps. Simmer for about 25-30 minutes, stirring frequently.
In another separate pan, heat the heavy cream to just below a simmer, don't boil and then stir it into the mixture. Simmer for just a min and then stir in 1 tbsp butter and season with salt and pepper to taste.
We like to serve ours over cooked rice and chicken tenders (I'm sure any chicken will do, this is just what we prefer). It is delicious!!
[amd-zlrecipe-recipe:14]
Want to see more recipes? Check out all of our recipes in our recipe section!
Save