Did someone say Bacon Cheese Ball Dip? Oh yes we did!
Ever had that hankering for a cheese ball? Ours usually hits during the first few weeks of summer. This Sweet Bacon Cheese Ball Dip recipe is one of my favorite cheese ball recipes I have come across and has become a favorite in our house.
It's more of a sweet bacon cheese ball but it's always a hit and it's really easy to make. We often taken these to family gatherings or BBQ's and serve them up with Ritz crackers or Wheat Thins. Our family is big on outdoor entertaining and this recipe seems to fit perfectly with any theme.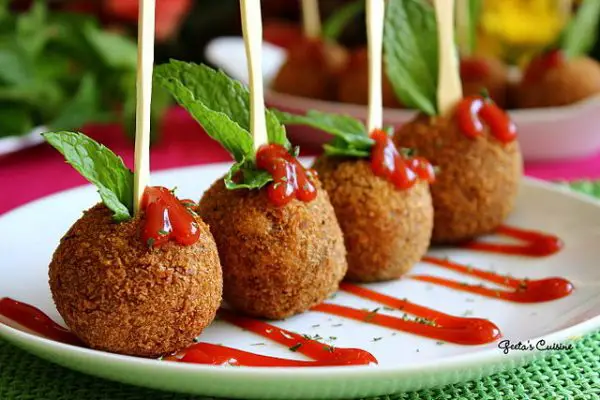 Image Source: Wikimedia
This picture doesn't do this cheese ball justice. This is a must make!
 Sweet Bacon Cheese Ball Dip Recipe
1/2 cup honey
1 8oz package Sharp Cheddar Cheese
2 8oz packages Cream Cheese (softened)
1 package Real Bacon Bits
4-6 green onions (chopped)
Mix all ingredients together and refrigerate for at least 4 hours. If you melt the cream cheese a bit then use a mixer to mix in the honey and mix everything else in with a spoon it seems to mix better.
This is one of those yummy recipes that gets better when the flavors have a chance to blend together so I usually refrigerate for about 4-8 hours or overnight.
You can also roll this cheese ball into a ball shape and then roll it around in some chopped walnuts or pecans for extra flavor.
It's perfect for any get together or a delicious holiday party appetizer. The guests will love it.. just be sure you serve it with Ritz crackers. For some reason this bacon cheese ball dip just goes so well with the Ritz crackers.
[amd-zlrecipe-recipe:6]
Get Free Netflix Now
Best safe and secure cloud storage with password protection
Get Envato Elements, Prime Video, Hotstar and Netflix For Free
Best Money Earning Website 100$ Day
download or watch movies online