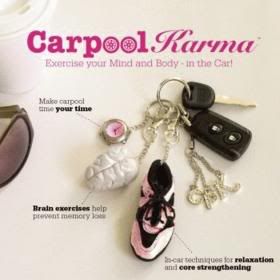 Exercise your Mind and Body – in the Car!
Carpool Karma was created by carpool moms to help optimize your time in the car and achieve your full mental and physical potential. Carpool Karma instructional audio tracks guide you through convenient and effective mind and body exercises. Their innovative in-car techniques, developed by certified experts and based on scientific research, reduce stress, stimulate brain activity and work key muscle groups. Carpool Karma puts you in the driver's seat for a fun and fulfilling brain and body workout. So get your kids in the car and your mind and body into shape!
Are you a carpool mom? Come share your pictures in the "Carpool Moms" Flickr group!
Reviews
Moomette's Magnificents Reviews – I found the music very soothing, and thought it much like "New Age" music. As I live in New England, part of the great megalopolis of the East Coast, the music was soothing enough to remove any instances of road rage that may have been going through my mind! Current research shows that brain exercises help to prevent memory loss and Alzheimer disease ~ avoiding "overload" or in my case, "senior moments." There are 25 audio tracks that include fun and stimulating mind and body exercises. Continue…
Miscellaneous Finds 4 U – I travel alone, so some of the cues on the CD are not applicable. They're geared to moms with small kids in the car. It'd be nice if it was changed to more generic chat. Anyway, the mind challenges were fabulous. I suffer from a neurological disorder and memory loss is one of its side affects. Until now, I was unable to remember even 5 items on a list and had no retention of it within 30 minutes. With the technique taught and reinforce on Carpool Karma, I'm able to remember 8 items with fabulous retention. Continue…
The Plus Size Mommy – The exercises it takes you through really help to keep your mind in shape! I really enjoyed this CD. It was invigorating and challenging. I love that it helped me to reduce stress, which I fully believe it did. After driving as much as I do, stress relief is MUCH needed. I have a feeling that I will be listening to this CD a lot! I am hoping it also helps when my children are in the car. Especially in the summertime when school is out and their little minds seem to go on vacation. I am hoping this will keep them in shape so that they will be all ready to start and their minds will be healthier when the next school year starts. Continue…
The Mommy Files – Carpool Karma was fun to listen to and I enjoyed the rhyming activities and sentence building activities. I had to listen to some parts more than once (due to little kids in the car), but overall, it made for a great driving experience! Carpool Karma would make an excellent Mother's Day gift. It's fun and creative! Continue…
From Melissa's Desk – Carpool Karma is totally cool! I loved that their were two kinds of exercises offered – mental and physical. The memory games were fun. I enjoyed the rhyming and memorization tracks. The physical exercises really help to reduce stress especially on those extra long trips. Even though this is targeted to moms, my kids enjoyed participating as well. And anything that will keep their attention away from petty arguments about who kicked whose seat is a cool product indeed! Continue…
The Carpool Karma CD is available online at CarpoolKarma.com for only $14.95. Use code MFUSE at checkout to receive 10% off!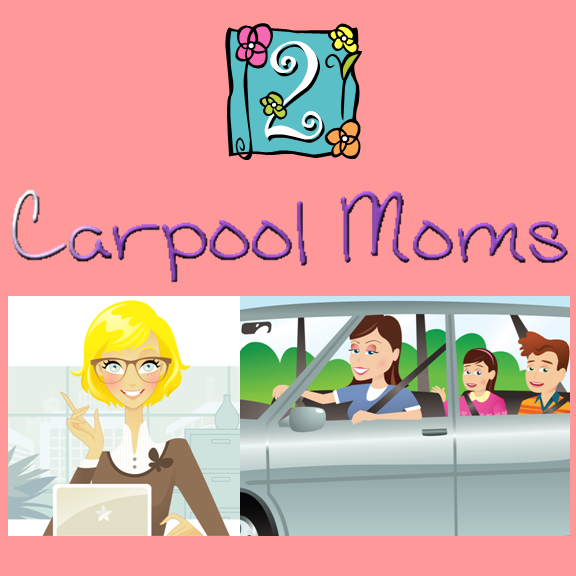 Click the image to visit the Carpool Karma Blog!