Setting up a nursery for your kids is a very big task which has to be done accordingly. There is always a lot to add in the nursery to make your kids distracted with a lot of cute stuff. Even if you want your children to share a room, it might be difficult to persuade them that it is a good idea. Nursery wallpapers are no longer cutely created, difficult to apply and much more difficult to remove.
Baby wallpaper has undergone a tremendous transformation, much like the modern nursery, which has become more delicate and refined. Not only does nursery wall paper eliminate the stress of installation (and eventual removal), but it also adds immediate style to your baby's room.
Getting specific with the wallpapers, butterfly wallpapers are actually a very great addition to your nursery. There are various kinds of butterfly wallpapers. Here we will talk about those butterfly wallpapers that sets best in a nursery.
Vintage Floral Butterfly Wallpaper
Butterfly wallpapers looks quite decent and complements good with the furniture and stuff. Adding a vintage effect to the wallpaper with floral and butterflies will actually look great. The nursery will be enhanced with energy and will make the kids feel at home in nature, enjoying tranquilly and freshness while feeling calm and satisfied, thanks to delicate and realistic flower and tree shapes.
This kind of wallpaper are usually produced with high-quality materials and a novel, safe, and ecologically friendly detachable adhesive. After removal, there is no residue, allowing the paper to be reused. The reverse of the wallpaper can be the gridlines that may be simply clipped as needed.
Vibrant and Gloomy Butterfly Wallpaper
Usually at the age of 3-4 years, children starts to look for something colorful. They are attracted towards sharp and bright colors. You can add a gloomy and colorful butterfly wallpaper that can be attractive enough for the children. But, do not overdo in bright colors as this can also result in disturbance of peace for some child.
There are a variety of designs to pick from, including floral, botanical, abstract, basic, and geometric. There is no color difference thanks to new water-based inks. The beautiful wings and fluttering flight of a butterfly fascinate and entice children. These butterfly wall decals have a lot of benefits, along with the fact that they may liven up your child's bedroom or nursery.
Pink Flower Branch Butterfly Wallpaper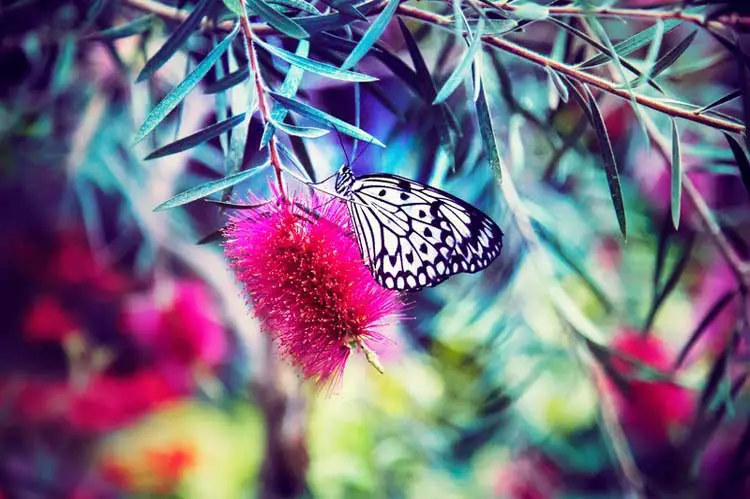 Floral looks too good with butterflies especially when it comes to the wallpapers. These vibrant and adorable pattern wall decals are a great way to liven up your home. This décor uses peach blossom flowers, falling petals, and peach blossom tree branches to create a beautiful and inviting ambiance.
These stickers are constructed of self-adhesive PVC that is non-toxic, long-lasting, and waterproof. This fragile wall may be mounted on any smooth painted wall or a flat, dry, dust-free surface because the stickers are self-adhesive and easy to apply.
The wallpaper comes with a little magnet so you can simply stick it to metal surfaces. It may be used to decorate living rooms, children's rooms, bedrooms, and infant rooms, among other places!