This is a Sponsored post written by me on behalf of Buffalo Wild Wings for SocialSpark. All opinions are 100% mine.
In our house Buffalo Wild Wings and Football go hand in hand. My husband and I are both avid sports fan and when Baseball season comes to an end we are anxiously waiting for Football season to start. While my husband and I are not fans of the same team (this can make for a very interested ball game) in any sport, we make it fun for the whole family and everyone has a good time watching us and our teams compete. It's never a dull moment when a game is on.
One of our favorite traditions is to head to Buffalo Wild Wings (aka BDubs) to watch the first game of Football, nothing beats watching the game on a big screen while eating their delicious wings (boneless for me) and chatting with the kids. I don't know if it's the atmosphere or just the fact that we are out as a family that makes it special, probably a combination of both.
It's really cute to watch my son, normally quiet and doesn't often say much, when he eat out because he becomes a totally different child. Once we hit the restaurant he chatters away about anything and everything. Heading out to BDubs for the start of the season has been a tradition for us for a few years now, well since the kids were able to actually eat a kids meal, but everyone in the family enjoys it and it's something I wouldn't change for the world.
This season they have some awesome promotions happening like the debut of the Game Changer Beer and the Bottomless Boneless Lunch.
Follow Buffalo Wild Wings on Twitter
Like Buffalo Wild Wings on Facebook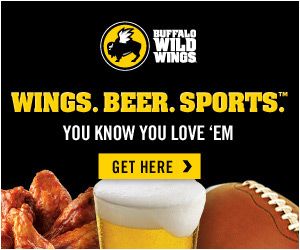 Best safe and secure cloud storage with password protection
Get Envato Elements, Prime Video, Hotstar and Netflix For Free
Best Money Earning Website 100$ Day