This super easy recipe will have you thinking twice about paying high prices for a body scrub ever again. Heck, you could even set up your own online business!
2/3 cup light brown sugar, packed (you can actually use any variety of sugar on the market today with the exception of powdered)
1/2 cup almond oil (any base oil will do)
5-10 drops essential or fragrance oil
Combine your oils in a bowl. Add the sugar and mix thoroughly. Store in a clean jar.
This potion will soften skin as it increases circulation. To use the exfoliating body scrub gently massage in circular motions over your entire body (excluding your face). Wash off in the shower or tub.
Voilá… ultra smooth, glowing skin!
This will leave the tub very slippery. All that oil is great for your body but can wreak havoc during the next shower. I give the tub a quick wipe down with a cleanser afterwards… (I admit, this doesn't feel so "spa" like).
Note: Citrus oils should never be used on skin within 12 hours of sun exposure. This could result in burns or discolored sun spots.
LorAnn Oils carries a wide variety of base, fragrance and essential oils for making this-and many other-bath & body recipes.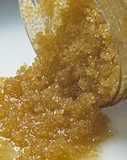 This was a guest post written by Aimee Plesa from Shake Your Bon Bons