Should students be part of the blogosphere? As technology has become more advanced, people can now easily gain and share information about themselves and the world around them.
Blogging In the Classroom
Business-minded individuals blog because they want to grow a business. But what about the advantages of blogging in education? Are there good reasons why students should create a blog and write content regularly?
If you are a faculty member or parent, read this article to discover how blogging transforms the lives of students not only today but also in the near future.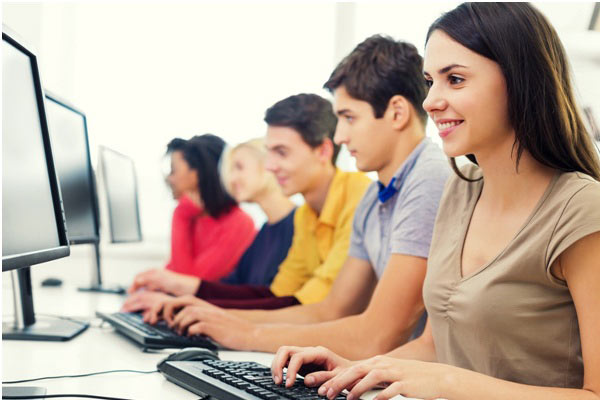 1.  Blogging is a Way of Doing Research
Blogging in the classroom can be used as a means for students to be comfortable doing research. Whether it's about self-reflection, a news announcement, or a how-to post, writing always involves research to present factual information.
If you want students to maximize this activity, encourage them to quote reputable sources and find more relevant data to further explain a topic.
2.  Blogging Helps Students Express themselves Better
One good reason to teach students how to start a blog is to help them voice out their thoughts and feelings in a safe platform.
Not all people may agree to a blogger's own opinions but that's the art of blogging. Students can post their views, get things off their chest, and share something interesting about themselves.
Just make sure to discourage students from posting something offensive.
3.  Blogging Improves Students' Writing and Language Skills
The more you read and write, the better you become. Blogging differs from a term paper or essay in a that it isn't just a one-time experience. Once students create a blog, it must be regularly updated.
Blogging requires commitment and because of that, a student develops his or her grammar, spelling, and ability to convey ideas in the most interesting way. Students get to grow their vocabulary and apply it in real conversations.
4.  Blogging Encourages Socialization
Another advantage of blogging is that it involves interaction between a student and his or her audience. Let your students know that the element of interaction is important.
Teach them how to properly comment on their classmates' blogs using appropriate language. Also, tell them to respond to comments, thank their readers, and answer their questions. This forces compels students to use their thinking skills.
5.  Blogging Helps Students Land a Job that Suits Them
More people have difficulty landing a job these days. Knowing how to start a blog and maintaining it allow you to grow a portfolio of your personal work.
Through a blog, potential employers see more than an applicant's professional experience. A student's blog reveals his or her strengths and weaknesses, interests, creative capabilities, and personality.
This gives applicants an edge over others.
6.  Blogging Boosts One's Confidence
Writing, exploring new topics, and expressing one's thoughts helps students be more comfortable about themselves. Since blogging allows them to converse with others, they build meaningful connections.
Many times, students realize their real passions by constantly writing about them. They also get to take pride in their published works.
All these benefits of knowing how to create a web page and blogging lets students realize their worth as unique individuals.
Final Word
There you have it, the many benefits of blogging for students. A growing number of schools have seen how blogging has transformed their students' educational lives. Should you encourage this activity in the classroom? Absolutely.