Best Stroller
You are a mom now and have landed, practically, on a 'multitasking' phase of life and want to make this time a memorable one. This is the time to hang out with new comer, hence, time to choosing best stroller, right? Being a mom, you must be very cautious and, of course, not sure about how to buy a perfect ride for your little angel? Here comes the solution!
Follow these top five tips on buying a stroller, hit the market and pick the best double stroller for toddler and infant as you need. Here you go!
1.  Keep Budget In Mind:
Image Credit: www.which.co.uk
Since raising children is an expensive task, you would try to cut the cost down while making decision to buy a stroller. If it's that much necessary, you can choose a used one from the couples who don't want it anymore, or can look for *Sale* in your area or even online. Use your resources! But, it is wise to spend few extra bucks on quality, when it comes to the comfort of your child, your peace and ease. So, one time investment would serve for years. Wise enough!
2.  Features You Must Look For: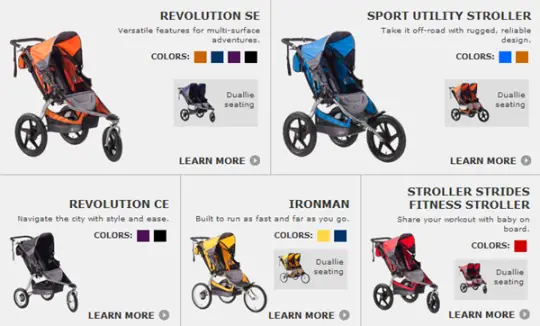 Image Credit: Biculturalmom
Easy to Stroll: Exactly! First and foremost! It must be easy to stroll and not bumpy every now and then. You expect a safe and smooth ride for your child when you are already in rush.
Adjustable Handles: to make your choice more practical and ergonomic, it is advisable to look for height adjustable handles. Ideally, waist-high or bit below would do well.
Parking Brakes and Locks: multi-brake mechanisms are practical and safer. It is better to look for all wheels brake. A hand brake is a big plus while jogging.
Sun Shade:  the stroller you choose must be canopied that protects your child from the sun rays and heat. It should cover your kid entirely when needed to prevent bugs or flies.
Tether: add on tool for the safe ride.
Reclining Seat and Head Barrier:  very comfortable and safety oriented for newborn babies to toddlers.
Don't Go For Travel Systems: Although quite tempting, this is not recommended at all by the American Academy of Pediatrics as it causes deformed skull and breathing problems in children.
3.  Safety Harnessed and Certified: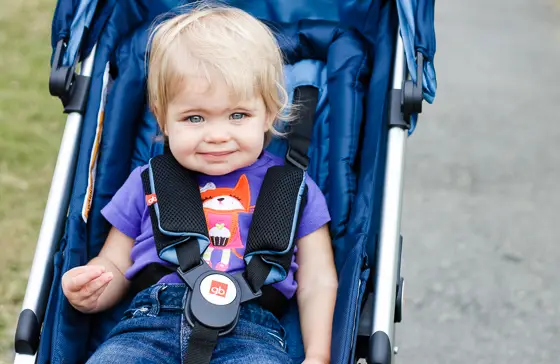 Image Credit: Dailymom
No compromise on your child's safety! Your choice must have safety belts. Preferably, 5 point harness, the safest one and preferred for smaller babies. It holds baby from legs, chest, belly and waist. The other options are 3 point and 2 point harness, preferred for toddlers.
Make sure the stroller you choose must be certified by the Juvenile Products Manufacturers Association (JPMA) and stay satisfied with your choice.
4.  Consider Your Lifestyle: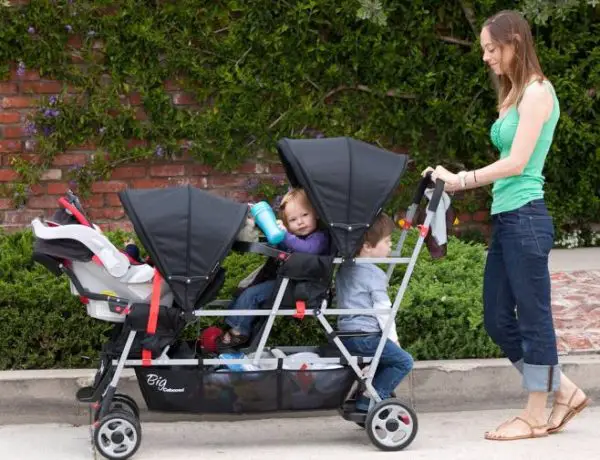 Image Credit: Furnikidz
Standard-Size: Quiet comfortable with plenteous storage, easily maneuverable, affordable, smooth and safe. It suits your simple life style as well as your baby aged between 6 months to 3+ years.
Car Seat Frame: If you have an infant six months older and don't need to carry much, this is perfect choice. It is featured as inexpensive, light between 11 to 16 lbs and compact.
Jogging: Perfect fit when you want to jog with your infant. Large air-filled tires keep the roll smooth and prevent from bumping the baby.
Double: Expecting twins? This is the favorite choice of moms. It would do more good if you fit baby with elder sibling.
5.  Easy In Handling: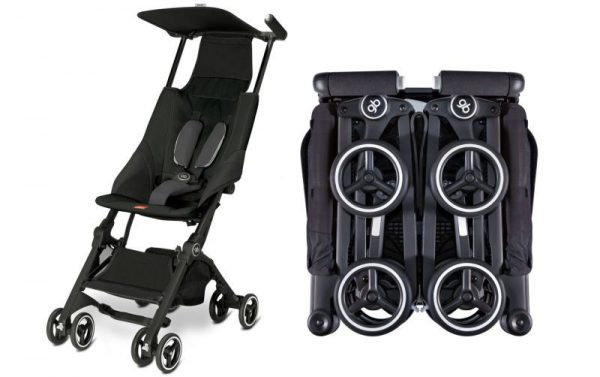 Image Credit: Notey
When buying, choose the one which is light, easy in folding and unfolding. As usually moms or care givers face the discomfort in handling and regret their buying decision. Hence, be more cautious!
Last but not the least, when you have made a choice; don't forget to take a test ride!!!