Prepare a festive treat for your kids on St. Patrick's Day! Wake up your little leprechauns with these fun green pancakes that are so quick and easy to make and, more importantly, they are super-tasty.
This holiday is a great opportunity to sneak healthy greens into your kids' breakfast, so go all-green and serve the green flapjacks along with green avocado smoothies (banana, avocado, milk, honey) or lime dip (lime yogurt + cool whip).
If you decide to skip on healthy food on this special day, add some green food coloring into a gallon of milk and prepare – green milk.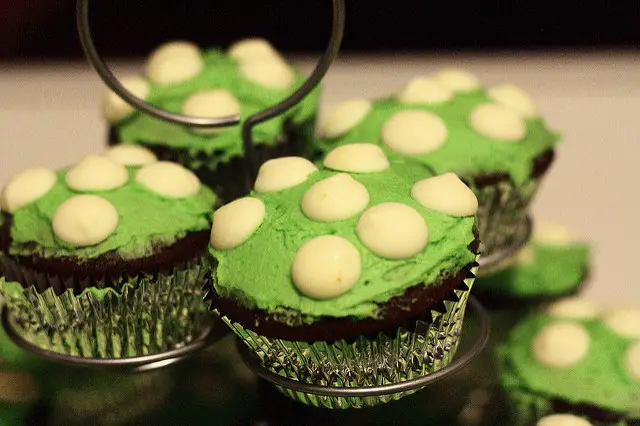 Image Source: Flickr
Why do We Make Green Pancakes on St. Patrick's Day?
St. Patrick's Day is not a legal holiday in the States but has been widely celebrated since the 18th century. It is more a celebration of the Irish culture that a religious holiday and, besides religious observances, celebrations include wearing green clothes, parades, and plenty of alcohol (mostly Irish whiskey, beer, and cider poured over a shamrock for good luck).
Green clothing and shamrocks are customary to wear on this day because it is believed that St Patrick used the three-leaved shamrock to explain the Holy Trinity to the pagan people in Ireland.
Sweet Green Pancake Recipe
The easiest way to achieve that amazing emerald hue of pancakes is to add a few drops of green food coloring to the standard pancake recipe. It might not be the healthiest way but hey, it's a holiday. Choose a creative topping that will put a smile on your kids' faces – chocolate syrup, whipped cream, marshmallows, or green M&M's. Healthier options include lime, kiwi, and avocado slices. Whichever topping you choose, don't forget to add lucky charms and shamrock sprinkles!
Festive pancakes don't necessarily have to be unhealthy. Try gluten free pancakes full of protein, fiber, and spinach! The best part? All the ingredients (½ cup oats, 1½ cup cottage cheese, 4 cups fresh spinach, 6 eggs, 1½ tsp baking soda, 1 tablespoon vanilla extract, ½ teaspoon cinnamon and 1 tablespoon chi a seeds) are mixed in a blender, which additionally speeds up the preparation process. Top with pure maple syrup.
Savory Green Pancake Recipes
After your kids have had a sweet and decadent breakfast, prepare St. Patrick's savory pancakes for lunch!
Omit the sugar in the previous recipe and you've got yourself savory spinach pancakes! Enrich the batter by adding mashed potatoes and chopped onions, then top the stack with a poached egg and fried bacon.
Don't be quick to discard kale so fast! This dreaded (and yet super-nutritious) veggie is not so bad when you combine it with other ingredients in Korean pancake recipes. You can add anything that comes to mind into the batter, but in order to intensify the green color, choose chopped zucchini, spinach, broccoli, asparagus.
Another healthy green pancake recipe is the one made with zucchini and peas. This recipe is also very flexible – make it gluten-free by using quinoa flour or sweet by incorporating banana into the batter. If you choose to go with the savory variation, top the stack with sour cream and some chopped fresh mint and dill.