Oh, the nineties. A time when Beanie Babies were some of the hottest toys on the market for children and adults alike. Nowadays, these little beanbag toys are hot commodities.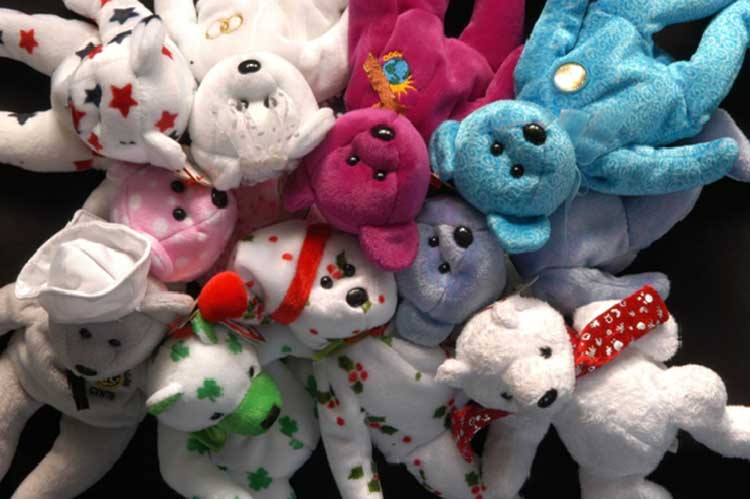 The history of Beanie Babies might not sound exciting, but any Beanie Baby collector should have some background information on their best Beanie Babies.
We're here to keep you informed! Keep reading for a brief history of these popular little toys.
The Birth Of The Beanie Baby
Beanie Babies are the creation of a brand called Ty Inc (created by Ty Warner in 1986). Ty Inc released Beanie Babies in 1993, and they were their most successful product. Unlike standard stuffed toys that have been popular forever, these toys were full of small pellets (or "beans").
Most Beanie Babies were animals. There were exclusive Beanie Babies for events and holidays and plenty of "standard" beanie babies at every toy store. Each Beanie had a special name and poem in their tag.
The Craze
No one could have expected the popularity of Beanie Babies. These toys are simple. They're stuffed animal shells full of pellets, which seems like something that parents wouldn't want to give their children due to a risk of choking.
However, these babies were a huge success. They may have been the first true internet sensation in the mid-nineties before the internet was widespread. Ty Inc was the first company to have a direct business-to-consumer website for their products!
Certain Beanie Babies had a large resale value, so many adults collected them as well with hopes of making a lot of money in the future.
Even the small Beanie Babies, Teeny Beanies, became collectible items despite the fact that they were free with McDonald's Happy Meals. Almost every household had at least one Beanie.
The End Of The Beanie (Or The Beginning?)
In 1999, Ty Inc created a Beanie Baby bear called "The End." This caused a lot of public outrage amongst people who loved these small bean bag toys. Ty Inc decided to continue production for several more years after gauging public interest and released another bear called "The Beginning" in 2000.
That said, the fad started to fade by this point. While the Babies were still popular, they had lost the novelty aspect. In the mid-2000s, Beanie Babies 2.0 joined the Ty Inc party, but they weren't as popular as their predecessors.
These Beanie Babies had codes that buyers could use online to chat with other Beanie enthusiasts, but the website is no longer functional. The company no longer produces these toys.
Are Beanies Valuable?
Several years ago, Beanie Babies went through a second boom. Many people were selling their Beanies (with tags) for hundreds of dollars (or more). There are still some Beanie Babies that go for thousands of dollars, but these Beanies tend to have unique tags from manufacturer errors.
In other words, it's unlikely that your closet full of Beanie Babies will make you rich.
That's The (Brief) History Of Beanie Babies
Beanie Babies were the hottest items on the market in the nineties. While they're now relics of the past, many people still love these bean bag toys. The history of Beanie Babies lives on in the homes of every Beanie Baby collector.
For more fun articles about the top trending topics, check out the rest of our site!