Baseball Glove

Finding the right youth baseball glove requires a bit of time and patience, but the effort will definitely pay off for your little one in the end. Depending on your child's age, league, and position on the field,there are a variety of glove types to pick from. These tips will help you narrow down your choices and ensure your child has a glove that fits perfectly.
Soft Foam Gloves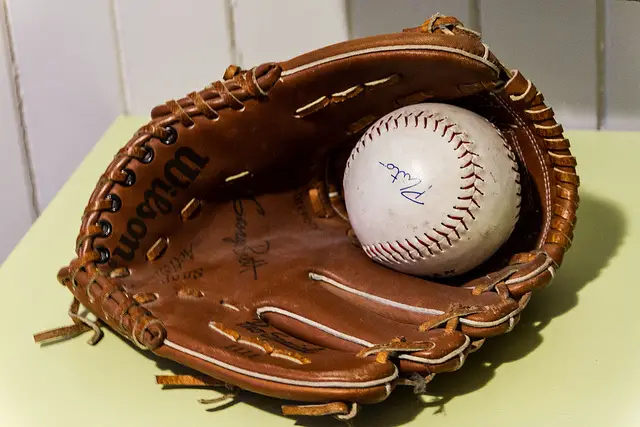 Image Source: Flickr
For the smallest of tots, you'll likely want to consider soft foam gloves. Usually these gloves have a Velcro closure that makes it easy to get the glove on and off little hands, and allow for adjustment to help guide fit. The glove opens and closes easier than a leather glove, making it a better option for little ones who have less hand strength. Generally these gloves are only suited for players between the ages of 4 and 6. Shopping hint: Your child will love that they often come in their favorite Netflix cartoon designs.
Regular Gloves
Image Source: Flickr
If your child is older or would prefer to have a glove that looks like the ones players in the MLBwear, you're going to have to take a few facets into consideration.
Sizing Issues:
Generally for a youth baseball player, you'll want to find 9-inch gloves. Make sure you don't buy something too large on the assumption that your child will quickly grow into it; a glove that's too large can make it hard for them to learn to properly two-hand catch and field.
Here are Some tips to Help You Measure Your Child's Hand:
•  Measure your child's index finger from the base to the fingertip in inches.
•  Add two inches to this measurement. This will give you an indicator of the right glove size.
•  When trying the glove on, make sure there are two inches of space between the end of the glove and the tip of their index finger.
Fit:
The softer the glove, the better. Children generally don't have a great amount of hand strength, and a stiffer glove will make it harder for them to open and close. The more pliable a glove is at purchase, the easier it will be for your child to use to its full abilities earlier on. Your child should be able to squeeze the glove shut and lightly wiggle their fingers.
Help them Break It In
Your child will need to break in their glove, and if you're willing to go old school, simple repeated wear and tear (you can hit a well-constructed glove with a bat or mallet to soften it up) and consistent use will have him or her well on their way to a soft, perfect fit glove. However, if you'd like to speed up the process, you can have the glove steamed. Yup, you read that right—steamed. Local sports stores often offer glove steaming machines that help to loosen up your glove, and they usually don't cost more than $20, so it could be a very worthy investment.
Try On In Store, Shop Online
It's important to try on gloves of different sizes and materials to see which feels more comfortable for your little one, but it's also important to consider cost. High-quality gloves can easily cost hundreds of dollars and you'll often find that prices are higher in local stores. The best tactic to save money and stay on budget is to head into sporting goods stores, let your child try on and determine fit and preferred style, then shop online. There are a variety of online sites that will provide the glove you need, for a fraction of the price you'd pay in store. Whether you're on the hunt for a catcher's mitt or the best first baseman's gloves, you'll find a bevy of options online.
Shopping for your child's first baseball glove is a huge milestone in their sporting career and could make the difference in their love of the sport.
Save
Save
Save
Save
Save
Save