This post brought to you by Bahama Breeze. All opinions are 100% mine.
Ah… summer. It is the time for getting together with friends, having fun and enjoying the outdoors. It is also time for the Bahama Breeze Summer Beach Bash!
This summer Bahama Breeze is having a brand new event called the Summer Beach Bash which started on June 23rd and will run through Aug 3rd.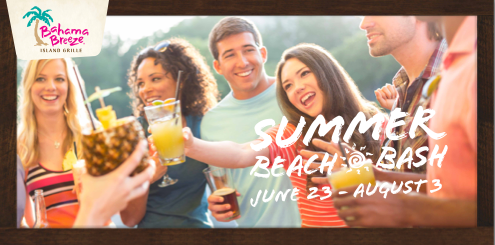 What's in it for you? Awesomeness! No seriously… it will be something fun that you will want to grab your friends and enjoy a good time!
The event will feature live music which brings the sounds of the Islands to the patio and a new signature cocktail; the Bahama Breeze Ultimate Pineapple. The Ultimate Pineapple is a must have frozen drink for the summer that is served in a fresh cut pineapple. You'll definitely not want to miss out on this tasty treat! Of course if pineapple isn't your thing you can enjoy your favorite cocktail while you are taking in the rest of the festivities.
On Saturdays they turn up the live music and bring out a mojito bar where you choose your fruit, your rum, and watch their bartenders muddle the perfect summer cocktail.
Have amazing selfie skills? Enter the #MyBBSelfie Instagram contest for a chance to win #BahamaBreeze gift cards and swag! All you have to do is share a creative selfie of yourself enjoying your time at the Summer Beach Bash and use the hashtag #MyBBSelfie and you will be entered for a chance to win a $25 Bahama Breeze gift card!
Are you ready to head out to the Summer Beach Bash? Just head on over to the nearest Bahama Breeze and enjoy the festivities! Remember the event runs from 6/23 to 8/3 so you still have some time.. and if you try the Ultimate Pineapple, be sure to tell us what you thought!