This contest has ended, winner will be announced shortly!
And the winner is…
Deborah Wellenstein says:
I think I need the Silky Sweet Shampoo. Thank you for this giveaway!
Congratulations Deborah Wellenstein!!
From the "Metrosexual Dad" Gift Guide – Badass Hair Company Products
"No words could better epitomize the hottest new hair care line, Badass Hair  or its creator, Scott Fontana. From the edgy, skull and "cross scissor" logo to the very suggestive product names, Badass Hair products are phenomenal in performance and playfully give the finger to the pretension adopted by other hair care lines." BadassHair.com
The perfect choice for any metrosexual dad who wants to maintain his edge. With products like "Gimme a Stiffy" hair gel, "Locked Up" finishing spray and "Wicked Mint" shampoo, there will be no question about who is the true Badass of the castle! For those dads who still have a soft side, they will be happy to hear that each product is made from high end,  all natural ingedients.
Badass Gift Ideas:
Ultimate Cleansing Cream: For the "no-nonsense" type of guy! This Badass product is designed to cleanse the hair, face and body.
Gimme a Stiffy – Dry Gel: Hard holding dry gel for damp or dry hair. Give yourself a "Stiffy"!
Distinction – Soft Styling Paste: Create a soft, piecy effect on dry or damp hair. Soft hold. Perfect for those who want a thicker, fuller look and feel!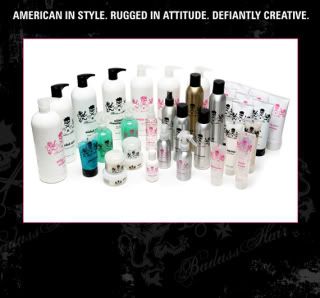 The Giveaway! We're giving away our top Badass picks: Ultimate Cleansing Cream, Gimme a Stiffy and Distinction. Become a true Badass, even if just for a day, you know you want to!
Don't let the name fool you, Badass Hair products are also perfect for women. Want to feel like a rebel? Try Ecstasy Intense Moisturizing Shampoo, Luminosity Flat Iron Spray  or Phat Curl Defining & Thickening Cream.
How to Win!
You Must: Visit Badass Hair Company and check out their rockin' collection of professional hair care products. Come back here and tell us which  is your favorite.
Extra Entries (optional)
1. Subscribe to the Mom Fuse newsletter.
2. Tweet this!
RT @NicoleMomFuse – Visit @momfuse to win some Badass Hair Products for him and more fun prizes for dad! www.momfuse.com
3. Grab our button and post it on your blog. Don't have a blog? Click here to email this page to five or more of your friends. Be sure to leave my email address in the "send" area so I can receive a copy too! If you do both (grab button & email), be sure to leave two comments for two entries.
Rules & Reminders
Contest ends 6/19 – Winner will be announced by 6/22

Comments not adhering to the rules will be deleted

Sorry, this contest is open to US residents only
The Mom Fuse Father's Day Gift Guide is being sponsored by got-free-ecards.com, your ultimate resource for free Ecards and greetings. Got-Free-eCards.com is easy to use and offers the widest selection of Free Printable Cards, Free Fathers Day Ecards, Free July 4th Ecards and Free Birthday Ecards.
Be sure to enter the Mom Fuse Got-Free-eCards.com Giveaway for your chance to win a $100 Amazon Gift Card!