Bacon Jerky Recipe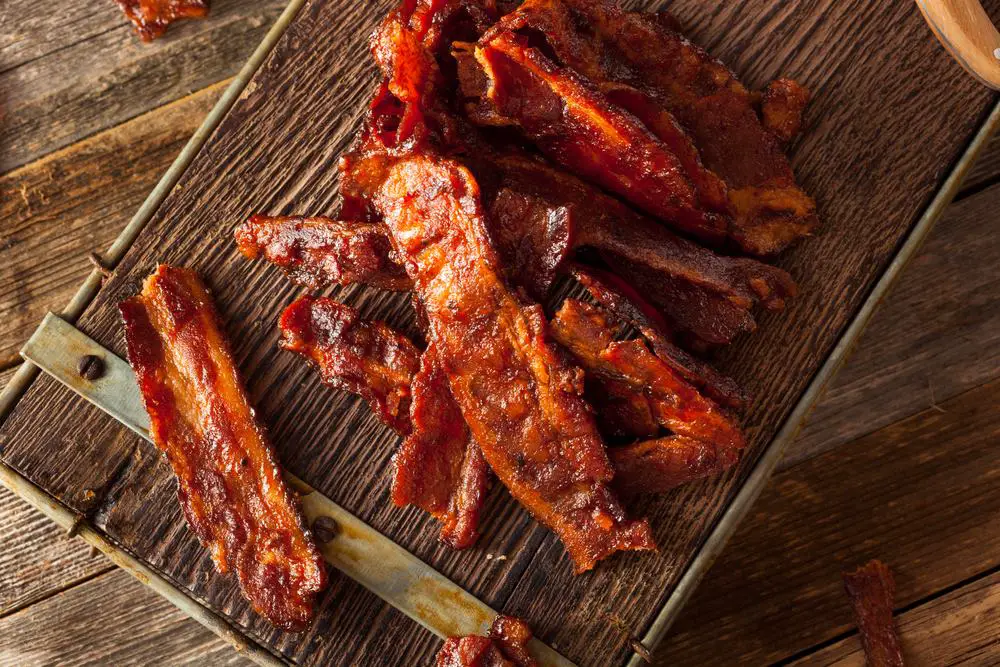 Don't you just love snacking on those salty strips of meat called jerky? I myself admit to being a beef jerky addict. I can't stop snacking on these things because they're so chewy, a bit salty, and sometimes even spicy.
I consider myself a beef jerky addict because I always have a batch lying around the house. It is simply my go-to snack food for both lazy and active days. Whether I am just sitting at home and watching TV or going for a trek through the woods, snacking on a piece or two of jerky always gets me going.
As a jerky lover, I was completely surprised to find out that jerky can be made from other kinds of meat and there's something as good as (or even better than) my favorite beef jerky, and that's bacon jerky.
Yes! There is such a thing as bacon jerky, and you know what? You can easily make it at home with a simple set of ingredients and materials.
Want to make bacon jerky on your own? Read on and let's get started!
INGREDIENTS
• Garlic powder
• Coarse black pepper
• Brown Sugar
• Dry rub
MATERIALS
• Ziplock bag
• Cooling tray
• Cookie sheets
• Oven
COOKING STEPS
1. The first thing you will need to do is prepare your oven for smoking the bacon. To do so, you must line your tray with the cookie sheet so that the smoke will be able to cover the bacon during the first stages of the cooking process.
2. Apply the dry rub to your bacon strips. Make sure that each bacon strip is completely covered with dry rub to ensure that it will become flavorful all throughout.
3. Season your bacon strips with the brown sugar, black pepper, and garlic powder. With these three ingredients combined, you will end up with a sweet taste that perfectly goes well with the salty taste of bacon.
4. Do take note that dehydrating food can significantly enhance the flavors of the ingredients you put into it since the heat contributes to the concentration of flavors. Be careful not to add in too much seasonings to avoid getting an overwhelming flavor.
5. Place your seasoned bacon strips in an airtight zip lock bag. Before you close the zip lock bag, try to squeeze out as much air as you can from it.
6. Refrigerate and continue to marinade your bacon strips for approximately 60 minutes.
7. Take out the bacon from the fridge and place your bacon strips on your tray. Make sure that every piece is evenly spaced to achieve efficient dehydration.
8. Preheat your oven to 190 degrees Fahrenheit and place the tray of bacon inside your oven.
9. Let your bacon strips dehydrate for up to six hours.
Keep in mind that you should keep this homemade bacon jerky in an airtight and clean container to attain a shelf life for up to 3 months when left unopened and uncontaminated. Also keep it away from direct sunlight.