This contest has ended, winner will be announced shortly!
And the winner is…
I am a MomFuse Newsletter subscriber!
twincere(at)hotmail(dot)com

Congratulations Tanya!

 
Long before my blogging days, when my daughter was first born, I was on a hunt for the cutest baby boutiques on the web. I must have bookmarked over 75 shops before finding my final destination, BabyBlingThingsBoutique.com – I was in bling heaven! I ordered swarovski hair clips, pink princess onesies and a pacifier clip. All of which I now have tucked away in my daughters keepsake box because they are just that cute!
BabyBlingThingsBoutique.com is owned by Ann Spross, who happens to be a new mom herself (congrats Ann!). Ann created Baby Bling Things Boutique to help hip mamas and their hip babies be able to "stand out in the crowd" without breaking the bank. She creates all the items in her shop by hand using 100% pure Swarovski crystals and 110% passion. Baby Bling Things Boutique specializes in embellished wipe cases, sparkling nursery decor, clothing for mom and baby, hair accessories and my favorite, Swarovski Converse sneakers!
I'll never forget the day that I took my daughter on her first photo shoot with Nathan Yungerberg and opted for the Valentine's Day Converse sneakers for her first "look". This is a photographer that knows fashion, has been in the business for years, has seen thousands of fashionable kids, yet my daughters sneakers from Baby Bling Things Boutique managed to excite him (and his stylist)! Everyone complimented the adorable sneakers and for the entire next year, this is the photo that landed my daughter every job she ever booked. Ann even posted it on her site for the Valentine Converse listing!
For a limited time, all Swarovski Converse sneakers are on sale! Major discounts here ladies!! The sale ends soon, so hurry up and order a pair (or two) today!
The Giveaway!
Ann has generously offered one of her adorable Swarovski Pretty in Pink Princess Headbands to one of our lucky readers! This is big moms…this same exact headband is going to be featured in American Baby Magazine starting this October (Congrats again Ann!). So you will have a chance to get your hands on one before every hip mama in America starts fighting for them for the holidays. Retail value – $32.99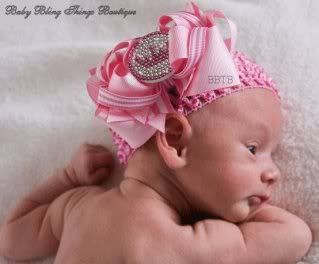 How to Win!
You Must: Visit BabyBlingThingsBoutique.com and come back here to tell us which blingalicious item is your favorite!
Extra Entries (optional)
1. Tweet This!  
Win a Swarovski Princess Headband from Baby Bling Things Boutique at www.momfuse.com  
2. Sign up for the Mom Fuse newsletter – after you've activated your subscription, come back here and let us know.
3. Blog about this giveaway. Post about this giveaway on your own blog or web site and come back here leaving the link in the comment box!
4. Follow Mom Fuse on Twitter! Once you've become one of our "tweeples" – come back here and leave a comment with your Twitter ID.
Contest ends May 15th – Winner will be announced May 16th

Sorry, U.S. residents only

Good Luck!