Future moms, listen up! There is a LOT of things you need to get to be fully prepared for your little one to arrive. Among all the necessities, try to think ahead and be ready for everything the future holds. Baby Monitor is a must-have. Make a list and take it one step at a time.
Your list should include baby wardrobe pieces (pants, onesies, pajamas, socks, rompers, newborn hats), baby furniture (crib or cradle, swaddle, toy basket, rocking chair), baby diapering, and bath (diaper pail, butt cream, baby wipes, baby towels, baby bathtub), baby gear (stroller, carrier, infant car seat, bouncer, play mat, baby monitor).
To make your life easier download Annie Baby Monitor.
It is a safe, efficient and modern way to look after your baby. Get the app and see for yourself. Don't you know how to decide which baby monitor is right for you?
Turn Your Phone into Baby Monitor
Go to the App Store or Google Play. Get the app. Let the fun begin.
Certainly, you are wondering WHAT Annie Baby Monitor is.
Basically, it is your nanny. App designed for the needs of all parents.
How Does it Work?
It is easy.
Prepare at least 2 devices. Smartphone, tablet, laptop or watch. No need to buy any other special equipment. Have the app downloaded on both devices.
Open the app on the first one, log in and create the code to pair the phone with your second device – tablet, for example.
Place your tablet in the nursery near your sleeping baby and start monitoring.
Watch your sleeping baby on your phone. If your baby makes any sound, you will be immediately notified.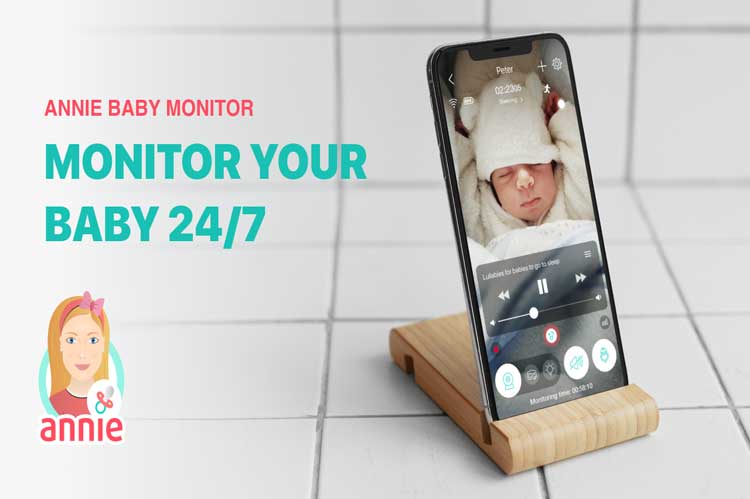 Why Purchase The App?
It is Safe.
The security of our little ones is the top priority. All communication between the child and the parent device is securely encrypted.
It is Sustainable.
You do not need to buy any other device or camera. Use your devices you already have at home.
It is User-Friendly.
App is simple to use, very intuitive. Everyone can handle it, even grandparents!
It is Fun.
Change the look of the app whenever you like! Monitor, collect points and get a special reward.
It is Up-To-Date.
App is regularly updated to bring new features and bug fixes.
It is Budget-Friendly.
Unlike hardware nanny cameras, the app is a more economical solution.
Don't rush, try the app and then decide. Waiting for the baby to arrive is a beautiful time that every woman should fully enjoy. Relax a lot, eat what your body asks for, meditate, go for a walk, spend time with your loved ones or learn new things. If you need help, ask for it. Your partner, family, and friends are there for you.
In comparison to hardware baby monitor:
 cheaper baby monitor
 easier to set up
 no more devices needed to be purchased
 lullabies and white noise included
 high-security connection
 multiplatform support
 24/7 live support
Annie Baby Monitor: Nanny Cam will also help you when you need some time for yourself. Parenting is not an easy job and everyone needs a hand from time to time. Putting your little one to sleep can take a lot of time and energy. After your baby is fast asleep, keep your smartphone with the baby, pair your other device with a smartphone, start monitoring and go to the bathroom to take shower. You will be immediately notified when your angel wakes up.
Save your money and get a baby monitor you can rely on completely! Apart from monitoring, you can also enjoy the other features, e.g. audio activity chart, motion detection, or smart mute. Visit baby app monitor website and learn more. Explore the app to the fullest.
Get Free Netflix Now
Best safe and secure cloud storage with password protection
Get Envato Elements, Prime Video, Hotstar and Netflix For Free
Best Money Earning Website 100$ Day