Let's be real; one of the most exciting aspects of becoming a mom is being able to dress your baby in all kinds of adorable clothing. It's tempting to wander around a department store and look at all the baby clothes, but that can be overwhelming—all those options!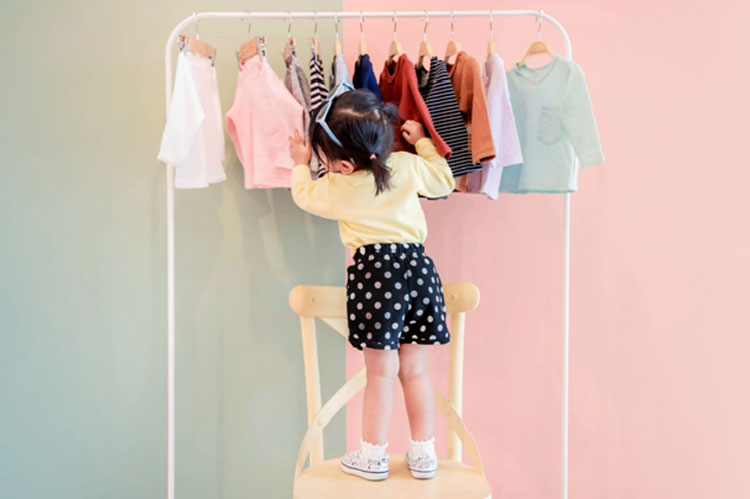 Luckily, this guide is here to help. We've done all of the hard work of sorting through all of the clothing options for your little one and found the best of the best—no chance of buyer's remorse here.
Ready to learn more? Let's get started.
Onesies
The ultimate baby wear: onesies. These are bodysuits for babies, and they are both easy to use and convenient for busy moms' schedules. They can be used for playtime as well as naptime.
Onesies are easy to put on, and you can get them on or off in no time.
You'll want a good amount of onesies in your baby's wardrobe, so look for packs of different onesies that come in your favorite color. There classic pull-on type with expandable shoulders and snaps at the bottom are ideal. Make sure they are made of cotton; this material is soft enough for your baby's delicate skin.
2021 is all about combining what worked in the past and getting rid of what didn't. That's why you'll want to look for comfortable options that are convenient for you and your little one.
During the winter, you'll want to find longer-sleeved options to keep your babies warm. Shopping online will guarantee that you find everything you need for your little one.
Tops and Shirts
If you're interested in diversifying your baby's style from onesies, you'll need some tops and shirts. These, along with pants and leggings, are essential.
You can put a variety of outfits together and can change them out quite quickly. Did your baby make a mess on his shirt? No worries, you can quickly put on a new one for him.
Find options that have expandable necks or snaps near the opening. The last thing you want to do is squeeze your baby's head by putting it through an uncomfortable shirt.
It's good to have a casual option for cotton shirts that you can buy in packs and a variety of more 'stylish' choices for special occasions. Hanna Andersson baby clothes have plenty of options that are hard to beat. Everything from cute holiday dresses to cozy pajamas is available, and you'll have a hard time finding your favorite.
Pants and Leggings
The right pants and leggings for your baby are as essential as the other categories. Although onesies are convenient to use, separate items allow you to make quick changes to parts of an outfit. Pants and leggings are ideal for winter months when you need to add a thick layer of clothing to their little legs.
Vary the variety of thicknesses and textures, so you have plenty of options for keeping your baby warm and cozy. The item shouldn't be too tight around your baby's waist or so loose that it wiggles off easily. That's why stretchy waistbands are the best choice when shopping for your baby.
This will also help save you money in the long run. After all, a newborn baby grows fast, and the longer you can use an item, the better.
Sleepwear
Although plenty of casual baby clothing can double as sleepwear, you want your baby relaxed as can be during bedtime. That's why you want pajamas that don't have straps or anything that your baby can get caught in.
You also don't want sleepwear that is difficult to put on or take off, especially if there are any accidents. One of the best options for sleeping is wearable blankets. They're not only safer than traditional blankets, but they will keep your baby warm.
Footwear
If your baby hasn't started to walk, don't worry about shoes. Not only does wearing shoes too early make walking difficult when the time does come, but it can also have a bad influence on the natural growth of their feet. That doesn't mean your little one has to go barefoot all the time, and you can have them wear booties or socks!
Babies' feet tend to get cold easily, and if you're at home, socks are the best option. These tiny socks tend to get lost easily, so be sure to buy them in bulk and pay attention to the size.
Booties are great when you're going out with your baby and when it's a little chillier. They help complete an outfit better than socks alone.
Finally, when your baby does begin to walk, buy them a pair of flexible shoes. As tempting as it is to buy solely based on how stylish they are, look for support and comfort. All three exist; it's all about knowing where to look.
Organic Clothing
If you're looking for items that are higher quality, then you'll want to find organic baby clothes. This is what everyone should strive to buy for their little ones, but they tend to be pricey. Many organic choices also have poor durability, so look at the reviews to ensure you're getting the best option for your baby.
Best Baby Clothes in 2021
On average, around 10,000 babies are born a day. That not only means a lot of diaper purchases, but it also means plenty of cute baby clothes that you need to buy. With an overwhelming amount of choices on the market, it's easy to want some guidance.
The secret to buying clothes for your little one is to look for positive reviews and make sure they are comfortable. Ultimately, it's up to you to decide what works best for your little ray of sunshine.
Looking for more articles like this? Be sure to check out the rest of our posts for more mommy advice!