Within the first minute of speaking to Budge Brown, I knew he had a passion for breast cancer awareness.  If you've never heard of Mr. Brown, maybe you have heard of his winery, Cleavage Creek.  The winery was created with the intent of contributing significantly towards breast cancer research and awareness.
Breast cancer is a topic that he knows well, as his wife was a victim of breast cancer.  The Cleavage Creek website includes a tab for "choices," which provides women with information regarding different ways to fight breast cancer.  Many of those include natural alternatives that many women have reported successful to date.
Since the wineries inception, wine sales have contributed $56,000 towards research and treatment of this disease.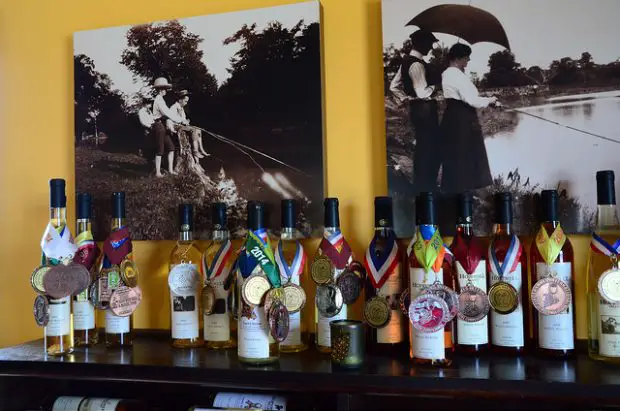 Image Source: Flickr
$30,000 went to the Integrative Oncology Research Center in Kenmore, WA.  This center offers naturopathic and traditional Chinese medical treatments as well as integrated management of cancer patients.
$14,000 went to care for two breast cancer patients at the Integrative Oncology Research Center.  Both patients are doing well after the treatment and are returning to their normal activities.
$11,800 went to Sutter Breast Cancer Center in Santa Rosa, CA.  This center purchased an MRI system that detects tumors not typically identified in mammograms.
Choosing recipients is a partnership between Budge Brown and the proposed need or center.  He has to feel sure that there will be positive results and the need is pure.  He has seen a significant impact from all of the winery's donations.  As of last month, all fifty women that were treated at the Oncology Research Center in Washington completed their treatment successfully.  The center opened in February, 2009.
I asked Budge where he got the idea of raising awareness and funding research through wine sales.  He told me that he has been growing grapes for 30 years.  His daughter found the Cleavage Creek label for sale.   They decided to automatically take 10% off the top of the sales for breast cancer research but have actually donated significantly more!
The Cleavage Creek website includes information regarding those donations and updates on the beneficiaries.  Purchasing their wine is a win for everyone, you get a great bottle of wine and much of the proceeds go towards an excellent cause.
I am sure you are wondering about the wines.  I think the medals speak for themselves.  The winery took 19 medals so far this year alone!  Budge assured me that all the wines are treated with extra attention and they only bottle from their best barrels.  Their wines include:
2006 Reserve Napa Cabernet Sauvignon
2006 Reserve Napa Petite Sirah
2006 Cabernet-Syrah
2007 Reserve Chardonnay
2006 Secret Red Blend
2007 Secret White Blend
Wines range between $12-$50 dollars.  All of the wines are produced in Budge's vineyards.  He also offers us a tip:  when enjoying Cleavage Creek wines, you need to be sure to decant them for one hour prior to drinking.  This allows them to open up and get the very best out of the wine.
An interesting aspect of the wines is the labels.  Each woman featured on the bottles, is a breast cancer survivor.  The women are not paid to be on the label but they do this to support the cause.  The women and the wine each have their own, unique story.
The winery itself is growing.  Construction is starting on a tasting room and wine shop in the Pope Valley region of Napa Valley.  There are gardens on the property and an additional garden and nature walk is being planned.
I encourage you to purchase their wines the next time you are looking to buy.  You will get to enjoy award winning wines as well as give back to a good cause.
For more information about Cleavage Creek, visit them at: