Do you know which president the Teddy Bear is named after?  Or which president got stuck in a White House bathtub?
This election season, kids can learn everything they ever wanted to know about the American presidency with Disney Publishing's new iPad app: Disney American Presidents: Unofficial Oval Office Scrapbook – which offers a fresh, new approach to the extraordinary men who inhabited the oval office and set the course for our country.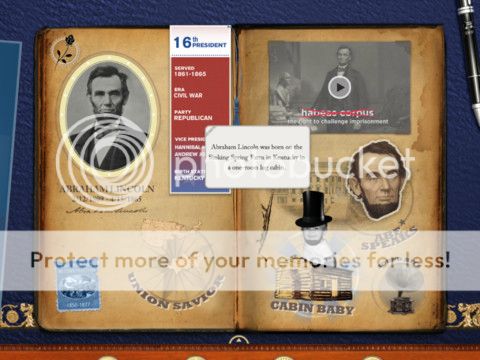 App features:
Sit in the oval office and flip through the Unofficial Scrapbook, finding new perspectives and stories about the presidents who helped shape our nation
Features more than two hours of hilarious – and historically accurate – presidential profiles for each of our 44 U.S. Presidents…from Washington to Obama!
Includes interviews with political luminaries and White House insiders such as Bob Woodward, Paul Begala, Wesley Clark, Sam Donaldson, Melissa Harris-Perry, Robert Reich, Jon Meacham and many more
Era-specific descriptions, music, art styles and references help bring each historical time period to life
Each President receives his own spread, with interactive elements linked to key decisions, notable characteristics and historical legacy
Developed by the Disney Learning team together with a producer from The Daily Show and Colbert Report, the app offers a fresh, fun dive into all 44 presidents with an interactive scrapbook, cartoons & animations, and even real-life testimonials from luminaries like Mo Rocca and General Wesley Clark.  The app is based on the award-winning educational video series "The American Presidents" from Disney Educational Productions and incorporates content from the series, helping to extend learning from the classroom to the iPad while at home, with friends, or on the go!
The app is tied to national social studies curriculum standards for grades 3-8 and offers a dynamic and playful historical journey – from homesteading and civil rights to trust busting.
Compatible with iPad. Requires iOS 4.0 or later.
Get It:
iPad: Disney American Presidents – Disney
Get Free Netflix Now
Best safe and secure cloud storage with password protection
Get Envato Elements, Prime Video, Hotstar and Netflix For Free
Best Money Earning Website 100$ Day