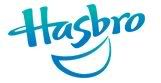 Product Description:
CONNECT 4 SpongeBob SquarePants Edition from Hasbro is just like the classic four-in-a row game with a Bikini Bottom twist. Stack the yellow SpongeBob SquarePants on top of the pink Patrick checkers upwards, sideways or diagonally and be the first to yell CONNECT 4! But watch out, your opponent can block out holes or an entire column using the SpongeBob blocker. 2 to 4 Players – Ages 8+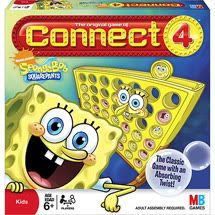 The Reviews
1StopMom – The kids had a lot of fun. Connect 4 is a quick and easy game that is great for all ages. What I liked about this edition is the fact there is the checker catcher. It definitely keeps them from going all over the place. The only problem we had is seeing around the blocker. Spongebob's head is a little big so you to remember empty spaces on the each side. Those holes can easily get unnoticed. Other than that we had a great time. Everyone played a couple of games. This game will be a nice addition to our family game night collection. Check our video of the kids playing the game.
Visit 1StopMom for the full review and photos of her family enjoying the SpongeBob Connect 4 game!
She Scribes – It's just as much fun as the original except with the new SpongeBob game there is a "twist".
Included with the Sponge Bob Connect 4 game is a plastic "Sponge Bob Face" that you can use to block your opponent. This really added a lot of fun to the game. My kids went nuts for this aspect of it and each couldn't wait to use it. It really adds a new dimension to the classic game.
My kids got a kick out of the stickers on the playing pieces too. They are decorated in the characters so instead of saying which color they want to be they take turns being the different characters.
The Sponge Bob Connect 4 is just one of many different Sponge Bob board games now available from Milton Bradley. They also offer Sponge Bob Operation (which looks funny), Sponge Bob Sorry, Sponge Bob Ants in the Pants (they would have made is jelly fish in the pants…ha ha), Sponge Bob Memory games and others.  Connect 4 is a great game for children because it teaches them strategy and counting, not to mention it's a lot of fun! – Read more from She Scribes
 Connect 4 SpongeBob SquarePants Edition is available online at Amazon.com for only $18.99
More fun ideas from…
Another game from Hasbro that is affordable and fun, especially for the younger crowd, is the Go! Diego! Go! Animal Scientist Sound Game – available at HasbroToyShop.com for only $11.99
Pre-Order Zambi the Elephant from HasbroToyShop.com – Project Zambi was created to raise awareness and support programs that help care for an estimated 15 million children who have been orphaned as a result of the AIDS epidemic in Africa.
Encourage developmental learning while planting the seeds of wonder, discovery and exploration with the Playskool Busy Lil Jiggle Garden Playset from HasboToyShop.com – ages 9 months and up
Join the fun! Sign up for the Hasbro Toy Shop newsletter to be updated on the hottest Hasbro toys and games, including special promotions and offers!