This giveaway has ended. Winner will be announced soon!
MmmmMmmm….I just got home from Chelsea Market and if you follow me on Twitter, you know what that means. A deliciously decadent, devilshly good giveaway!
I professed my love for Fat Witch Brownies a couple of weeks ago and seriously have been thinking about them since. So of course, after my meeting with Ola Loa today I had to scurry on over to pick up some goodies for our readers.
Check out the Fat Witch Philosophy….
Life is a journey, not a destination.
So along the way, enjoy the best.
At Fat Witch Bakery, we're not in a hurry.
We bake in small batches and do what is known in the trade as "scratch baking." And we use natural ingredients.
We create products where quality trumps quantity.
We're not trying to bake everything for everybody.
We're baking for people with good taste and that includes their taste buds.
We don't add emulsifiers, gas flushes or other things you wouldn't add.
We like to add a touch of whimsy and we hope you like our sense of humor.
Life is too serious to be taken seriously.
Ok, on to the serious stuff. Here are a few photos from my journey into Fat Witch today, just incase you were wondering what heaven looks like. If you're ever in the NYC area, come check it out in person – Fat Witch is located in Chelsea Market at 75 Ninth Avenue. New York, N.Y. 10011 and there is another location "witch" I have yet to visit located at 1753 Park Avenue. New York, NY. 10035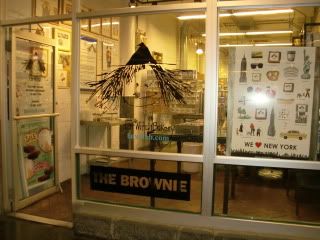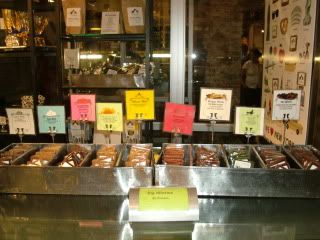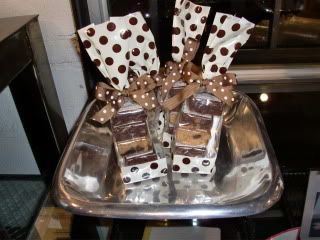 Ok, so you got all of that? Delicious brownies + all-natural ingredients + a company with a great philosophy and green efforts + me in Chelsea Market with some money to burn + a love for our readers = someone is trying these babies out!
The Giveaway!
I purchased two brownie mixes and two little gift sets of pre-made brownies from Fat Witch today, just for you guys! Since I am the editor of both this site and of Pink & Posh, I decided to split my goodies up into two giveaways just so I don't leave anyone out. Here's what one of our Mom Fuse readers is going to win…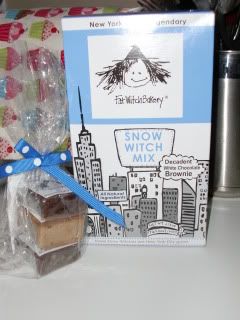 The Mom Fuse prize includes one box of New York City's legendary Fat Witch Snow Witch Brownie Mix, a decadent white chocolate brownie mix made fresh in your home. Each box makes about 16 brownies depending on the size you cut them into to.
I also purchased a 3-pack of pre-made brownies to give away. The gift set includes one original chocolate Fat Witch Baby, one blondie Fat Witch Baby and one walnut chocolate Fat Witch Baby.
To learn more about the varieties and ingredients, please visit Fat Witch online.
My promise to you – You will LOVE these brownies…guaranteed!
Don't forget to check out my Fab Find feature for Fat Witch Brownies that I posted a few weeks back.
ENTER TO WIN!
1. Simply tell me why you want to win my Fat Witch goodies. Also, promise me that the next time you are visiting NYC, you will call me to meet for coffee and a Fat Witch!
Extra Entries (optional)
1. Subscribe to the Mom Fuse Newsletter.
2. Enter for another chance to win my Fat Witch Brownie Giveaway over at Pink & Posh.
3. Tweet this –
Fly on over to Mom Fuse to win NYC's legendary Fat Witch Brownies – http://bit.ly/4whKh – A gift from @NicoleMomFuse
Contest ends 7/17 – Winner announced 7/18

U.S. residents only

Comments not adhering to the rules will be deleted

Good Luck!