Our laptops, tablets and televisions can provide great tools for children's development, especially in self-driven learning and problem solving through fun mediums. Even schools and colleges in recent years have realized the power of self-driven learning through digital media.
Image Source: Flickr
However, we must be mindful of the effects of overusing these devices. Mobile, television and laptop screens can be harmful to the human eye if used excessively.
With young and developing eyes, our children are most susceptible to screen-related eye problems and often the symptoms of these do not arise until conditions become troublesome.
Let's take a look at the 5 ways in which our devices can be damaging to our children's eyesight and eye health in general.
1.  Impaired Visual Focus
When we stare at digital screens for extended periods of time, our eyes become temporarily used to the hue of light emitted from the display. Our eyes calibrate to what we are looking at currently and get used to this immediate environment.
This means that when we eventually look away from the screen, our vision can be blurry and our focus temporarily impaired. This overworks the eye muscles as we try even harder to focus our vision. Aside from direct damage to the eye muscles, this brings the danger of not being able to focus on the obstacles of our immediate environment.
2.  Macular Degeneration
Excessive exposure to screens can cause slowly developing damage to the retina; the light-sensitive inner coating of the eye. Retinal damage at a young age can contribute to complications later in life, such as Macular Degeneration; when the Macula of the retinal wall begins to deteriorate with age.
Often symptom less until fully developed, retinal degeneration and detachment often need complex surgery to repair later on in life and can bring their own complications with them.
Children's National is a useful resource for further information on retinal disorders affecting children.
3.  Hypersensitivity to Natural Light
Image Source: Flickr
Usually, our children spend their device-time inside of the house. We often see a certain divide between 'outside time' in natural sunlight and 'inside time' playing digital games and doing school work on various screens indoors.
Having spent screen-time indoors without bountiful natural light, our eyes become used to the light emitted from our screens. This means that when our children go outside, they are more likely to experience greater sensitivity to the sun's natural light. This can cause further straining of the eyes and an inability to focus their vision in an outdoor environment.
4.  HEV/Blue Light Damage
Our digital screens emit a substantial amount of light in the HEV blue light portion of the visible spectrum. This blue light has been shown to contribute to conditions like Computer Vision Syndrome (CVS).
Natural exposure to the blue light spectrum has its benefits when emitted from its natural source – the sun. However, our digital screens emit a large and concentrated amount of this HEV light which is irregular to our natural environment and our biology.
More detailed information about blue light and its effects can be found on the Manhattan Vision Associates website.
5.  Dryness of the Eyes
It has been shown that too much screen-time can cause dry eyes. This happens mostly when our devices are held too close to the face and when we sit close to televisions and other large screens (like our children often tend to do). It has been shown that we blink less with screens nearer to our face. This causes our eyes to dry up without their needed moisture received from blinking.
Continual dryness of the eyes can cause corneal ulcers and scarring which become increasingly painful and difficult to treat in the future.
As a Parent, What Can I Do?
Implement a 10/10 rule where every 10 minutes spent in front of a screen must be followed by 10 minutes of doing something else, either in the presence of natural light or simply without screens.
Use dimmer screens when reading on devices and use grey background colours which are less damaging to the eye. If reading time has to be on-screen, encourage reading outside to let in more natural light also.
Look out for symptoms like scratching of the eyes and excessive straining during on and off-screen activities. Early detection of certain symptoms can avoid more serious complications down the line.
With a little positive reinforcement and leading our kids in the right direction, we can ensure their eyes stay healthy. What's more, is we can show them how their own choices have an impact on their health by educating them about their eye health.
What about Contact Lenses?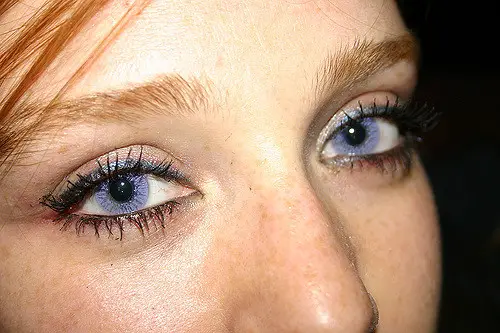 Image Source: Flickr
Much like glasses, placing any foreign object in or around the eyes carries with it its own risks. Children can benefit from the use of contact lenses in many cases, however due care must be taken in proper education and supervision in their use.
Of course, determining that your child is at a suitable age to responsibly and independently use contact lenses is the most important factor. Many recommend the general age in which children can begin to use lenses is 13 years.
With this in mind, we must remember that these lenses though helpful, are not a solution for curbing excess screen-time. Lenses will simply help those with the need for visual enhancements but will not make our kids impermeable to the damages caused by overuse of digital screens.
As parents, we must educate our children to be able to benefit from these devices for entertainment and learning, whilst understanding the golden rule of moderation.
We all know the most difficult part can be getting our children to step away from the screen in the first place and experience the immediate world more often.
Implementing certain routines and being vigilant of arising symptoms of eye problems will ensure our children get to see their world at its fullest.