Home garages contain commodities such as motors, electrical equipment, automobiles, chemicals and mechanical tools that can be hazardous to infants and young children. Experts at Sears Garage Doors guide us on how to secure a garage. So, let's take a look at the 5 amazing tips to keep your family safe from garage hazards: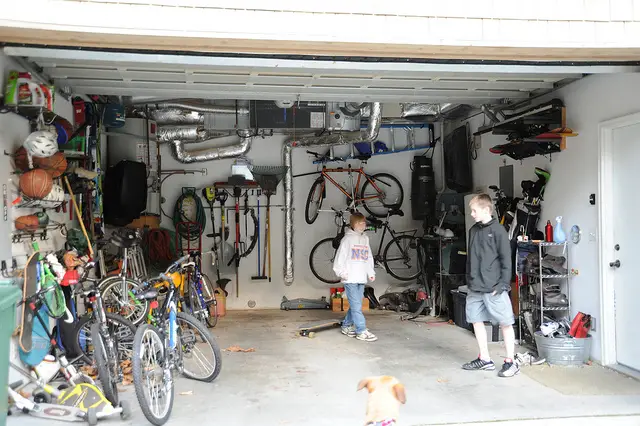 Image Source: Flickr
Stash Toxic and Inflammable Chemicals Beyond Reach
Let's pledge to keep the toddlers safe from hazardous chemicals by putting them at a high place out of their reach. They have tendency to grab things and put in their mouth. Build a closet at a height in your garage to store the bottles containing acids, gasoline, cleaning products, pesticides and antifreeze. If you own a grill, do not leave the charcoal out and keep it out of reach.
Keep the Automobiles and Powered Tools off
Powered tools can cause serious injuries to those who are not trained to use them. In case of young kids, never allow them to get close. It's wise to build a locked tool bench for your garage to secure all the electrical tools. Further more, make sure vehicle doors are locked. Kids have the inclination to open and close them, so can cause hand injuries. If you're keeping a lawn mower, its blades should face the wall and batteries should be removed. Apart from heavy machinery, ropes and water hoses should not be left lying on the floor. Kids can easily trip and hurt themselves.
Dispose of Any Inflammable Materials and Keep the Containers Closed
The best way to make a garage safe for your children is to ensure that it doesn't contain any flammable items. They are extremely harmful and catch fire easily, so be sure to dispose them of (or seal them somewhere safe if they are really needful). Old newspapers, clothing, oily rags and magazines are combustible. Other than that, do not keep the containers open. Kids can flip, drown or trap themselves inside easily. Always keep the lids of large containers close or store them in an upside-down position. Gasoline and other flammable liquid containers should not be kept near gas and hot water heaters.
Keep a Close Supervision of Kid's Activities near Garages
Unsupervised activities of the kids inside garages can cause serious troubles. Observe them if they go to ward the garage. Stop them from playing with the garage door. Manual or automatic, both types of garage doors are heavy-built and can crush fingers, cause severe head injuries and even death. Better to install automatic doors in your garage. They use sensors to detect an object near them. If the door is manually activated, you have to be above them all the time.
Prohibit their Entrance at First
You can restrict your young kids from entering the garage to avoid any mishap in the first place. If you allow them, they must go under supervision. You can prohibit their entrance either by locking the entrance door to garage or by using a child gate inside a frame. Take care of all these steps to ensure your child's safety in the garage.
Save
Save
Save