We can't forget Dad on Father's Day! We've come up with our favorite 2015 Fathers Day Gifts that we think Dad might enjoy!
Neo Smartpen
With its sleek, ergonomic design, this smart pen not only looks cool, but is fun to use! By seamlessly digitalizing written words or drawings to iOS and Android devices, users can move from paper to digital in seconds.
For example, if your dad likes to write you inspirational notes, he can do so in his own handwriting, and email it to you immediately.
Or, if he likes to doodle, he can instantly share them with his friends.
Horn Mug
Raise a toast to Dad in style. This elegant Horn Mug is made from authentic cows horn, and is capped on the bottom with a wooden base.
Due to the nature of the raw materials, no two Horn Tankards are exactly alike, guaranteeing you give Dad a one-of-a-kind gift. Rugged yet functional, this classic horn beer mug is a perfect gift for the renaissance man, the history buff, or any Dad in between.
My Mini Golf
My Mini Golf is entertaining and rewarding for both golfers and non-golfers. The game can be played by the whole family, indoors on any smooth surface.
My Mini Golf is durable, lightweight and portable. Since the game can be played on any smooth surface, just open the game up and users will find a fun, interactive training aid to help improve the skills of both veteran golfers and those new to the sport.
J.R. Ewing Bourbon
Remember J.R. Ewing from the t.v. show Dallas, he was one of the most beloved characters in television history, played by the late Larry Hagman.
Well recently, experts in the spirits industry have lauded J.R. Ewing Bourbon for its quality and taste profile.
J.R. Ewing Bourbon appeared in multiple episodes of the TNT television series DALLAS, including the series finale.Whether dad was a Dallas fan or just simply likes a nice bourbon we think he'll enjoy this.
Personalized Bamboo Coasters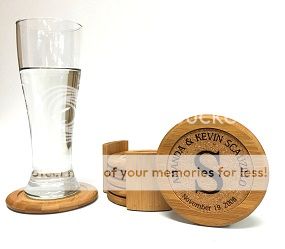 Keep your table protected with this Custom Laser Engraved 7pc Bamboo Coaster Set.
Choose from 6 different design options! (all coaster will have the same design)
Motorola Talkabout MH230R
Motorola Talkabout Two-way Radios are designed to provide affordable and dependable communication, ideal for the outdoor enthusiast, active families or an emergency preparedness kit.
These radios work in remote areas, are rugged and convenient to use and provide instant access without using up your cell phone minutes.
Perfect for the dad who loves hunting or other great outdoor activities.
Coolbox – The world's smartest toolbox
With Coolbox, the world's smartest toolbox, your dad can power his tools,
recharge his devices, play music and even pop open a cold beer!
Whether dad is a DIY novice or handy pro, Coolbox has revolutionized the traditional toolbox, making it more convenient and tech savvy to work on repairs around the home and/or office.
KettlePizza Kit
A KettlePizza kit is the affordable alternative to costly back yard, wood-fired brick or stone ovens.
A KettlePizza kit easily converts a kettle style charcoal grill, like a Weber, into a wood fired oven. The Made in the USA kit installs within minutes and allows back yard chefs to cook delicious pizza without constantly reloading the grill with fuel.
As a life style product, KettlePizza brings together family and friends to enjoy everyone's favorite food — pizza.
InnoFLASK Portable Speaker
While FLASK can't store dad's beverage of choice, it's a great gift if he's a frequent traveler and needs to listen to music on the go.
The portable InnoFLASK speaker comes inside its own carrying case – no bigger than a sunglass case – making it easy to take on trips. InnoFLASK is available in four colors and provides high-quality sound
EOS Rebel T6i
Canon's exceptional line of entry-level digital SLR cameras has a new flagship product — the Wi-Fi and NFC enabled EOS Rebel T6i. It is the perfect camera to help the dad in your life step up from a camera phone or upgrade from a point-and-shoot camera.
It offers features that deliver high-quality, creative images to help chronicle family life, vacations and special life events including graduations.
Buy It
Gourmet Treats From Berries.com
Covered in buttery caramel and topped with even more treats, these crisp pretzels are perfect for a dad who loves a sweet and salty indulgence. If you're nice, he just might share!
Berries.com offers lots of other delicious sweets and treats that are perfect for dad this Father's Day!
Chewbacca Bathrobe
They know what you're thinking, but you can rest assured. No wookiees were harmed in the making of this robe.
They know everyone wants to look just like Chewbacca, but skinning wookiees is not only cruel, but it's also nearly impossible.
Let dad show his love for Star Wars (or the wookiees) with this awesome bathrobe!
Ssmart Dynamo 2+
Help Dad live a healthier lifestyle with the new Ssmart Dynamo 2+, a 24/7 activity band that tracks fitness activity, monitors sleep patterns, and keeps dad connected with friends and loved ones.
With the SmartFit App Dad can track his steps, distance, heart rate and calories burned and at night tracks his sleep cycle. Bonus, Dad can also answer or reject calls and Dynamo 2+ even displays text messages and emoji icons.
PulseArm
The PulseArm gives dad the advantage, the edge, and the bragging rights, because it allows him to feel more bites.
Simple to use, affordable, and easy to learn, PulseArm makes the rod an extension of the body and blends with dad's own technique of fishing to take him to the next level.
Maker's 46
Maker's 46 is a contemporary interpretation of the classic Maker's Mark, and is sure to intrigue any whisky aficionado.
Made from fully-matured Maker's Mark that is aged an additional two to three months with 10 seared French oak staves,
Maker's 46 leaves a big mouthwatering finish. Its aromatic blend of caramel, vanilla and spice flavors are guaranteed to make a great gift for the dad who loves bourbon!