Our 2010 Holiday Gift Guide is brought to you by these wonderful sponsors:
Cool Pet Pad
http://www.thegreenpetshop.com
The COOL PET PAD is a revolutionary new self-cooling pet cushion that cools without refrigeration, water or electricity. No maintenance, no mess. Automatically re-charges itself. The COOL PET PAD is weight or pressure activated. As soon as your 4 legged friend lies down the cooling effect starts. It will last up to 3-4 hours of constant use and will last for years. It will re-charge itself automatically after a brief period of non-use. How cool is that? (Get one for yourself!) $19.99
—————————————————————————————————————————————-

Planet Dog Wood Chuck® with Orbee-Tuff® RecycleBALL®
http://www.planetdog.com
A sleek take on other ball-tossing devices, Wood Chuck® bamboo core offers strength and maximum chuck-ability with an ergonomic cork handle for comfort and grip-ability throw, after throw, after throw. Wood Chuck's® 4-pronged claw coupled with the pliant nature of our Orbee-Tuff® products make it a cinch to grab and throw. Goes the distance every time. Orbee-Tuff® RecycleBall® is included.
—————————————————————————————————————————————-

4 Piece Travel Set
http://www.barknbag.com
Set Includes: • Tote 11.5h x 9″w x 3″d • Zip Pouch 5″h x 8″w • Foldable bowl • Plastic container with lid
Features: • Organic Denim made of pesticide free cotton  • Adjustable shoulder strap • Easy access zippered pockets
—————————————————————————————————————————————-

Katpak
http://www.thegreenpetshop.com
he KatPak is a simple litter box solution for feline travelers to use in vehicles or at any destination. Made of a heavy-duty biodegradable paper it folds. Katpak is the first disposable, biodegradable litter box of its kind! Made from heavy duty recycled paper, the Katpak is 100% bio-degradable. Sturdy, no leakage, complete with handles. No fuss, no mess. Katpak is the easy and hygienic, disposable cat litter tray. Katpak takes away all the hassle. $11.99
—————————————————————————————————————————————-

The B.B. Simon Dog Collar / Black
http://www.theshabbydog.com
B.B Simon Black Leather Dog Collar with black Genuine Swarovski Crystals. Your pet will be the most stylish dog on the block! Made in the USA. Shabby Dog: Home of Designer Dog Bows, Fancy Custom Dog Beds and our "Original" Hands-Free Wrist Cuffs with matching Dog Leashes and Dog Collars. Dog Blankets, Dog Bowls, Dog Leashes, Dog Collars, Dog Beds, Dog Clothing and much more! $80.00
—————————————————————————————————————————————-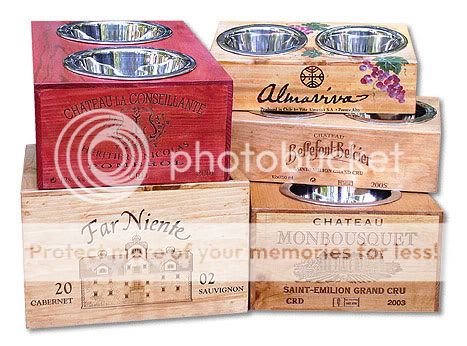 Whiner and Diner, Handcrafted Elevated Pet Feeders
http://whineranddiner.net
Whiner and Diner elevated dog feeders, raised cat bowls, pet toy boxes and small pet beds are individually created to meet your pet's specific needs. Choose an elevated pet feeder height (from 4″ to 20″ high), a pet feeder style (single bowl, double bowl or triple bowl feeder), to accommodate your dog or cat 's needs and habits. Pick one of our six custom colors for any of our products to complement your home décor. Add a complimentary hand-painted pet name to turn any raised pet feeder, pet toy box or small pet bed into a unique pet accessory.
—————————————————————————————————————————————-

Woof Hoofs Dog Boots
http://www.woofhoofs.com
High quality "pawwear" for dogs. Whether you have a Yuppie Puppy or an Outward Bound Hound, Woof Hoofs are great for a jog in the park or a trek in the wilderness. Made of a neoprene upper and ToughTek sole, Woof Hoofs are designed for comfort, durability and performance. Each set of WOOF HOOFS comes with four booties and is packaged in a reuseable mesh pouch. Available in red or black and come in seven sizes, ranging from XXS to XXL. $24.99
—————————————————————————————————————————————-

Puppy Cake
www.puppycake.com
Puppy Cake is an inexpensive and delicious alternative that's fun to make! Their cake mixes are especially appealing to the amateur chef. Just mix the dry mix with an egg, vegetable oil, and water—just like the kind of cakes people enjoy. Each box is composed of human grade, natural whole wheat flour, honey powder, salt, baking powder, and powder flavorings. What cake would be complete without frosting? Their mix is a yogurt frosting that has digestive and immune system boosting qualities. Pull out all the stops when celebrating that special pup's birthday! Bring home a a box of Puppy Cake in carob or banana flavor. $6.99
—————————————————————————————————————————————-