From colorful paint, cool furniture, amazing decals to curtain set and art pieces you can completely overhaul the look and feel of your kid's room. Below are a few tried and tested ideas to change the appearance of your kid's bedroom.
1) Soothing Wall Color Combination: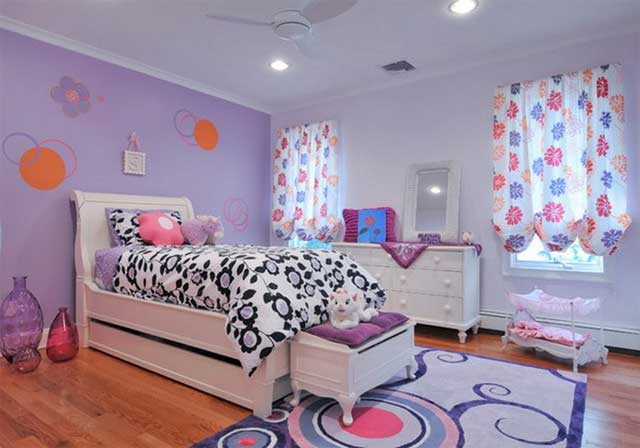 Select a soothing wall color combination to provide an ease-into-sleep feeling for your kids. Pastel colors such as lavender and light blue give a relaxed and calm effect.
2) Get Creative with an Art Gallery: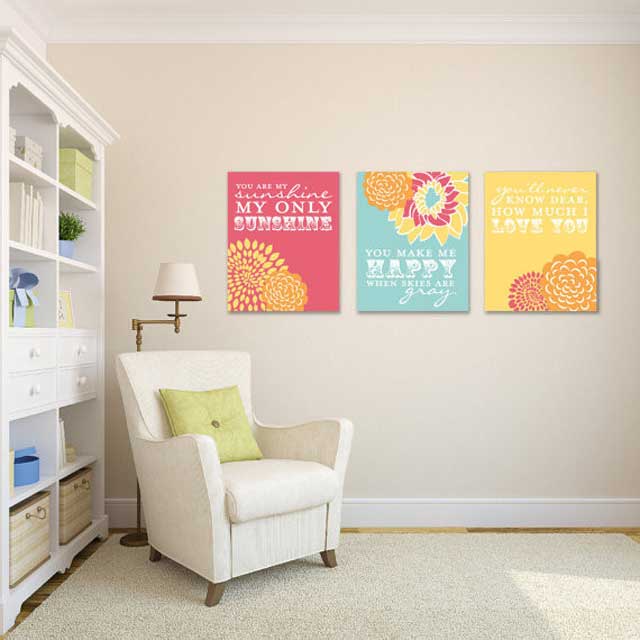 For little kids, 76th & NewBury offers a nursery collection. Instead of the plain walls, get creative and create a mini art gallery. You can either use your child's art work and some art prints. You can also install a special cork to place the art pieces there.
3) Using Letters and Numbers For Wall Decors: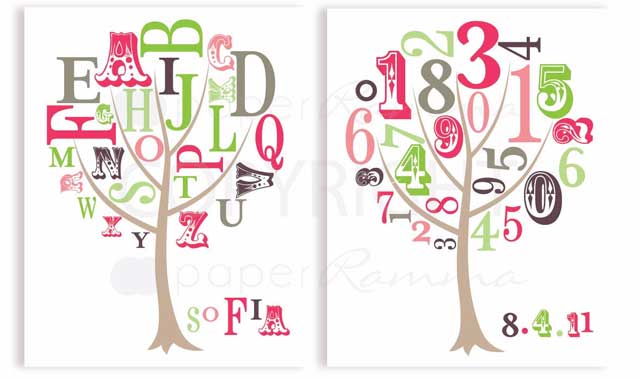 Hanging letters and numbers is another creative way to decorate the walls. This not only looks beautiful, but also increases your child's confidence and interest in learning about them.
4) Keep things Within Reach of Children: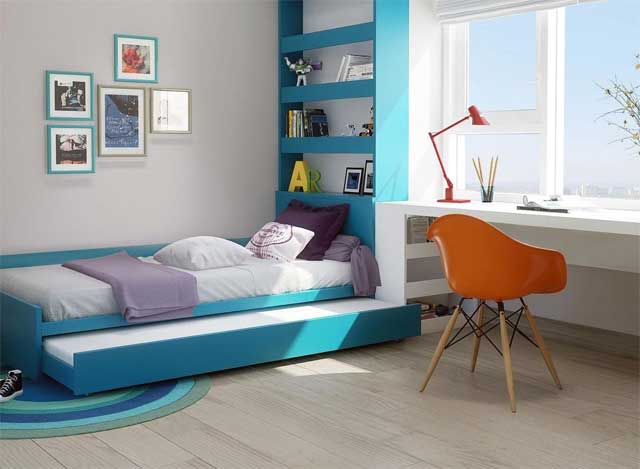 To keep everything arranged in the kid's room, make sure you keep their stuff within their reach. Use storage areas such as closets, coat racks and benches at kids' height to help them get to it easily.
5) Art Center With a Chalkboard Wall: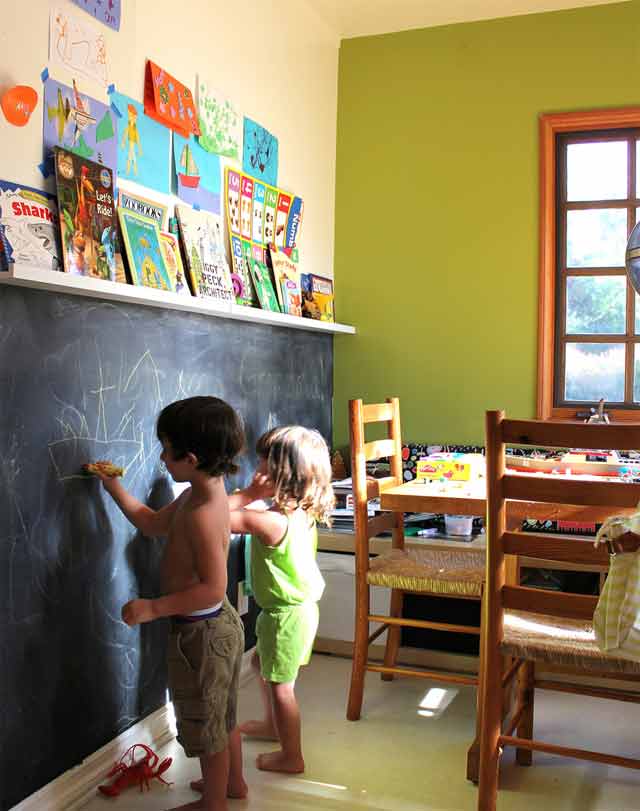 Create a continuous art center with a chalkboard wall.  Place the Chalkboard wall below the art pieces to make it reachable for kids. Kids will play by drawing anything on the chalkboard wall.
6) Artify The Fireplace: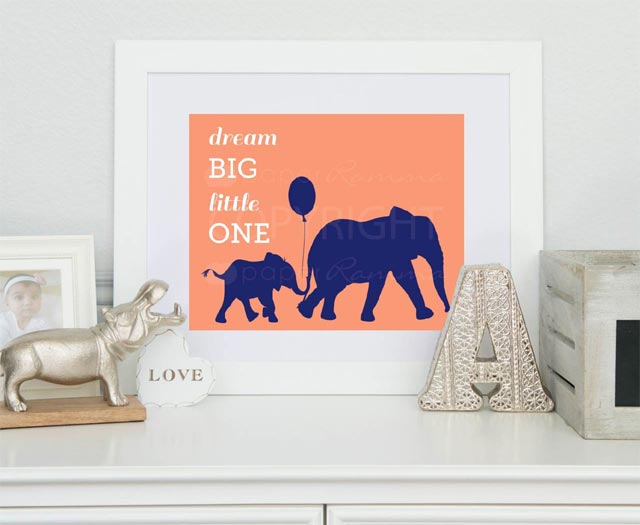 Fireplace is an excellent location to add some art pieces. You can place the pictures of your little one along with framed motivational quotes to add colors to the fireplace.
7) Wall Tattoos: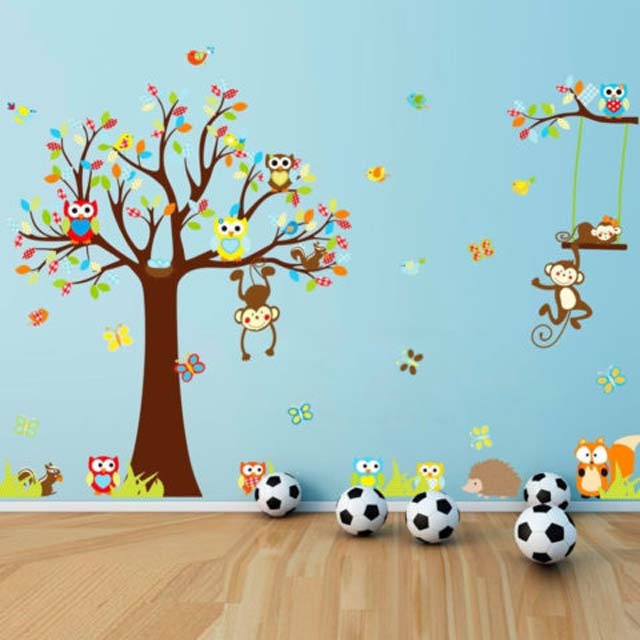 Removable wall transfers are a popular yet affordable way to decorate a room. With the growing range of styles and patterns, you can use these temporary wall tattoos to decorate your kid's room in a flexible fun way.
8) Hang Collections: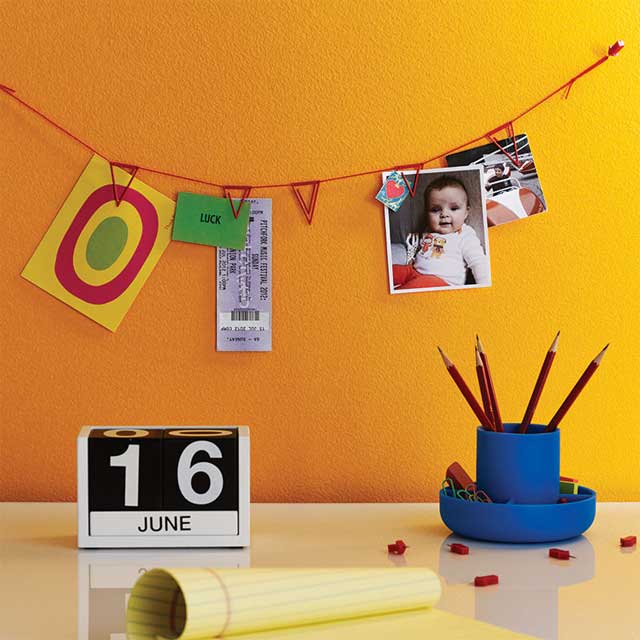 Kids stay busy collecting items such as pictures and postcards. Instead of stacking the images in a cork board, hang them through strings in front of a window. You can also clip them to a string along the wall to build a creative border in the room.
9) Wall Decorations: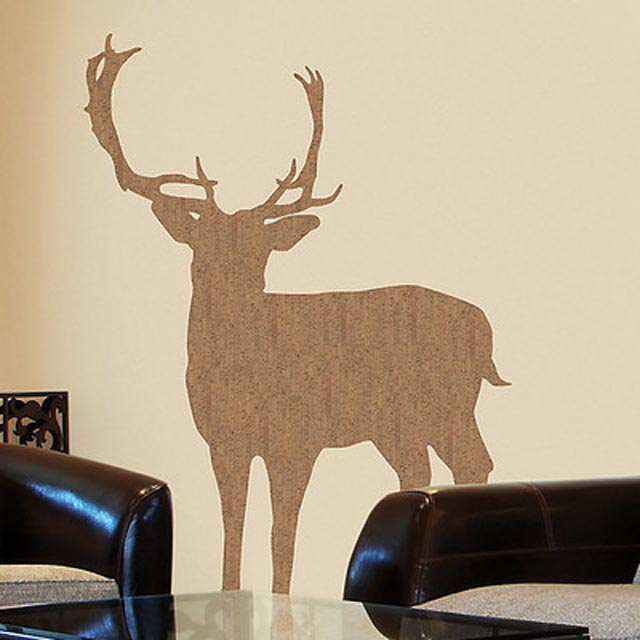 Check a local art and crafts store for a peel and stick cork. Cut out any shape by peeling off the backing. Attach it to the wall for a fun pin-up space.
10) Warm Place: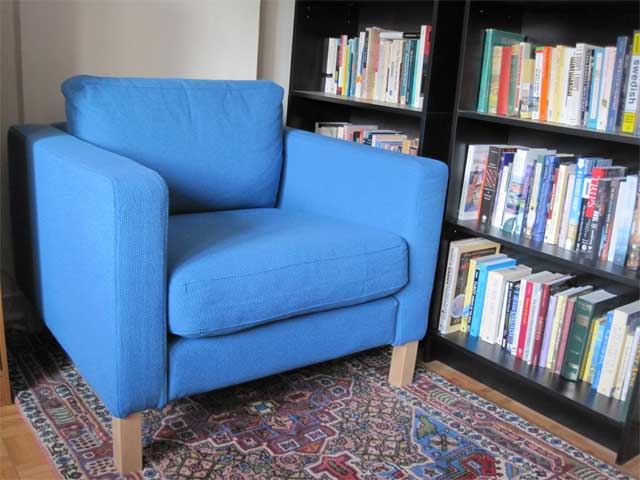 Build a warm place for an amazing reading time for kids. Set up a bookcase stacked with favorite books, good lighting and warm seating.
11) Use Different Lightings: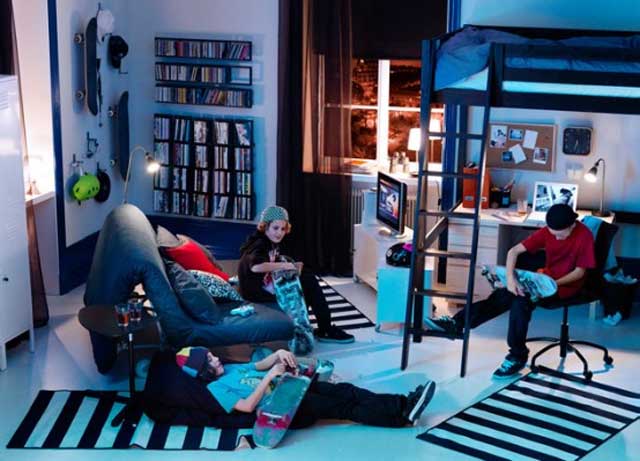 Use different types of lightings in a kid's room. Include a reading light in addition to the overall lighting. This may help them to get to the bathroom in the middle of the night.
12) Paint the Dresser: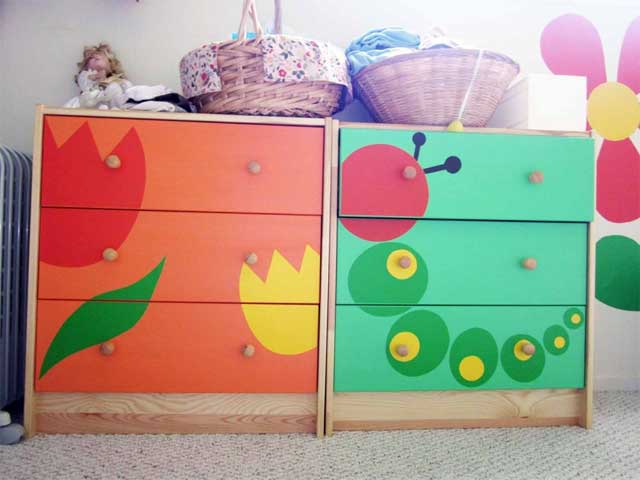 When painting a dresses or some other furniture, ask for your child's help. This way the child can also put their signature on it with their favorite symbols and characters.
13) Cover Storage Closets: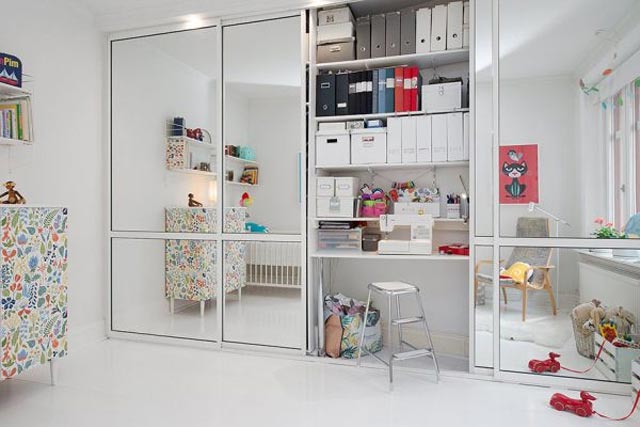 Cover the storage closets with mirrors, magnetic boards or light boxes. This will extend the space of your child's bedroom.
14) Use All the Space You Can Get: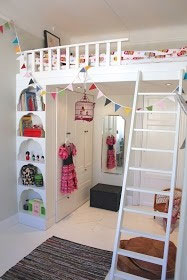 Instead of wasting any space, exploit all the opportunities for storage. Use a bed with built-in closets and bins. You can also use a stool with stash.
15) Decorate Toys in a Bookcase: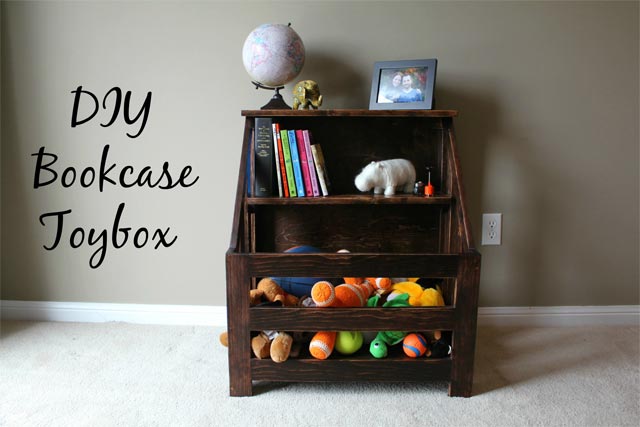 Use a bookcase to neatly arrange toys. Of course, you can use them for stacking books, but until your kids are young enough to play, use the bookcase as a toy case.
16) Make Use of Rugs: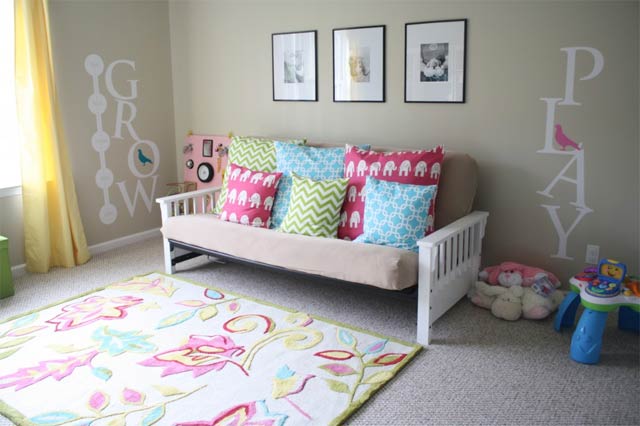 Use Patterned accessories such as rugs to add flair to your child's room. You can also use colorful pillows to complement rug and create a cheerful play space.
17) Use Pom-Poms: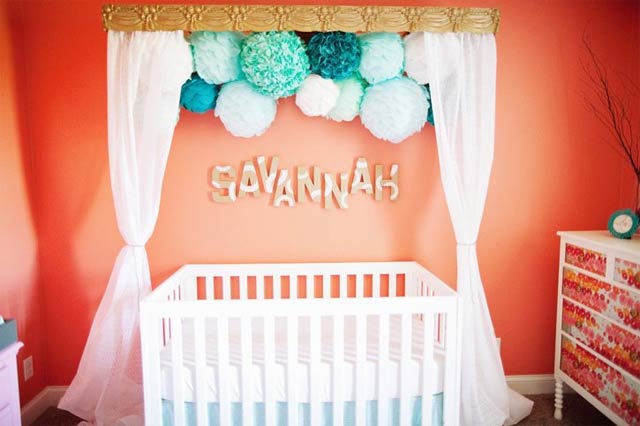 Pom-Poms are an inexpensive way to decorate a child's bedroom. Use poms of different sizes but in shades of same color to make a strong impact.